Korea Fourth in the world to develop 300km/h High Speed Train

Hyundai Rotem Company revealed its first set of the new Korean high speed train, KTX-II, made with independent Korean technology. The KTX-II is designed to minimize air resistance with a streamline design and maximize energy efficiency with an aluminum alloy car body. The safety and reliability has also been increased. The new high speed train can be adjusted and operated as 10 cars in one train set or 20 cars in one train set according to the number of passengers. Korea has proudly become the fourth country in the world following Japan, France and Germany that has acquired the technology to manufacture and operate the 300km/h (maximum speed 330km/h) high speed train.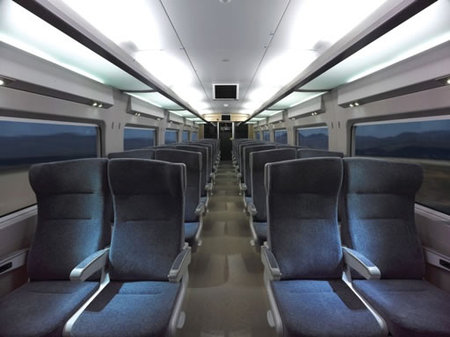 The new KTX-II trains have been upgraded with newly installed convenience facilities to meet the needs of passengers. All of the seats are more spacious and rotatable. New facilities such as family compartments, handicap restrooms and snack bars are available. Also, more services such as wireless internet and DMB reception are provided to bring more comfort to the passengers.The KTX-II, which was designed and manufactured by Hyundai Rotem, will go through a test running process for 6 months, conducted by KORAIL(Korea Railroad).
---
---
---