Mazda launches all-new CX-5 crossover SUV with Skyactiv Technology

Mazda today announced the launch of the all-new Mazda CX-5 crossover SUV through all Mazda, Mazda Anfini and Mazda Autozam dealers throughout Japan. The CX-5 is to be launched in the crossover SUV market, which is growing all around the world, and will become a core model in the Mazda lineup.The all-new Mazda CX-5 is the first model to adopt Mazda's breakthrough Skyactiv Technology including gasoline and diesel engines, transmissions, body and chassis, offering a predictable and refined driving experience together with outstanding fuel economy.


The all-new CX-5 has a line-up of two new-generation engines. The model equipped with Mazda's SKYACTIV-D 2.2 clean diesel engine meets Japan's Post New Long-Term Emissions Regulations without an expensive NOx after-treatment device, while at the same time delivering excellent fuel economy of 18.6km/L (JC08 mode), the highest of any SUV and maximum torque of 420Nm, delivering powerful dynamic performance equivalent to a 4.0L, V8 gasoline engine.


The SKYACTIV-G 2.0L model, equipped with the highly-efficient direct injection gasoline engine, also includes for the first time Mazda's 4-2-1 exhaust system. The driver can enjoy the linear and powerful driving sensation created by the feeling of oneness with the car, while at the same time benefiting from outstanding fuel economy of 16.0km/L (FWD model, JC08 mode).
Both models are subject to the Japan's tax incentives to promote eco-cars (eco-car tax reduction program), as well as tax breaks for the vehicle weight tax and vehicle acquisition tax incurred at time of purchase. In terms of design, the CX-5 is the first model to fully embody Mazda's new design theme, KODO – SOUL of MOTION. With finely-honed vitality and dynamism, the car's styling is reminiscent of a cheetah about to pounce on its prey.


For the interior, Mazda's aim was to create an enjoyable space that is comfortable for everyone in the vehicle in any situation. The 40:20:40 split fold-down seat backs and karakuri folding configuration means that even when carrying long objects, two adults can sit comfortably in the rear seats. This functionality is offered as a standard feature for the XD L Package, the XD and the 20S grades.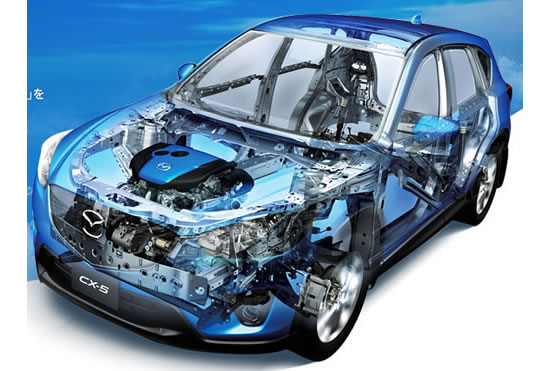 The CX-5 employs Mazda's new-generation Skyactiv -body light weight, highly rigid body and all model grades come with curtain and front side airbags, Dynamic Stability Control system and Traction Control System as standard safety equipment Smart City Brake Support (SCBS), helping to mitigate the damage from a collision by automatically controlling brake operation is also introduced, as an advanced safety technology available in the CX-5.(This system is standard equipment for XD L Package and factory installed set option for the XD and 20S model grades.)


The manufacturer's suggested retail price (including taxes) ranges from 2,050,000 yen ($25900) to 3,190,000 yen ($40302), and the sales target in Japan is 1,000 units per month.

---
---
---