Mazda develops worlds first highly efficient automobile gasoline engine with a compression ratio of 14.0:1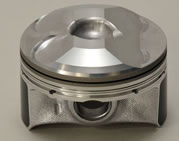 Mazda has developed a gasoline engine SKYACTIV-G 1.3 direct-injection, featuring a record-high compression ratio to achieve a fuel efficiency level as high as that of a gasoline-electric hybrid vehicle. The breakthrough SKYACTIV-G 1.3 achieves a record high compression ratio (for a regular gasoline mass production automobile engine) of 14.0:1 and exhibits high efficiency, especially under high load at low rpm. In order to avoid knocking, the SKYACTIV-G 1.3 features a number of new technologies, such as piston cavities that are specially designed to support ideal combustion, and multi-hole injectors that enable precise fuel injection control. The ratio of precompression volume to postcompression volume for an air-fuel mixture stands at 14.0 to 1, the highest in the world for a gasoline-fueled engine.

The 1300 cc Mazda engine will be combined with an idling-stop system and a continuously variable transmission to achieve fuel efficiency of 30 kilometers per liter. Mazda plans to use the engine in the new Demio compact car it will put on sale in the first half of this year. Mazda has applied for over 130 patents in relation to the engine (as of the end of February, 2011).
---
---
---