Mitsubishi Electric Announces EMIRAI3 xAUTO Automated Driving Concept Car for Next-Generation All-Automated Driving
Mitsubishi Electric announced today the EMIRAI3 xAUTO, an automated concept car incorporating a full suite of Mitsubishi Electric technologies for safe, accurate next-generation automated driving. Mitsubishi Electric aims to commercialize the technologies from 2020 onward. EMIRAI3 xAUTO uses high-precision measurements achieved with quasi-zenith satellites, accurate positioning achieved with high-definition 3D maps, and out-of-vehicle information based on road-to-vehicle and vehicle-to-vehicle communication.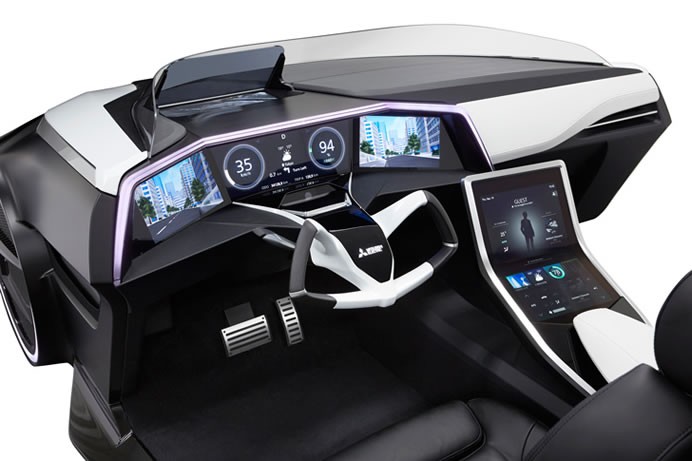 3D mapping is accomplished with Mitsubishi Electric's own "mobile mapping system". Precise centimeter-level measurements are achieved with quasi-zenith satellites. Road-to-vehicle and vehicle-to-vehicle communication ensure cooperation with nearby vehicles and appropriate responses to specific road conditions, such as mountainous or snowy roads, driving at night or in fog, or when merging into heavy traffic.

Artificial-intelligence technology predicts and maps visible risks based on the movements of other vehicles. It also identifies invisible, immobile risks by analyzing information about potentially dangerous road conditions, etc. acquired from the Internet. Mitsubishi Electric's high-precision-vehicle-motion control cultivated by electric power steering and traction-control technology experience achieve smooth, stable self-driving operations. The EMIRAI3 xAUTO will be exhibited during Tokyo Motor Show 2015 at Tokyo Big Sight in Tokyo, Japan from October 29 to November 8.

---
---
---