Mitsubishi Motors to launch the most fuel-efficient gasoline car in Japan- Mirage global compact car

Mitsubishi Motors announced today that it will launch the all-new Mirage global compact car at dealerships throughout Japan on August 31, 2012 at an MSRP ranging from ¥998,000 ($12767) to ¥1,288,000($16477). The new Mirage is a global compact car developed on the concepts of high fuel efficiency, affordable and compact (easy to drive), the ideal characteristics sought in a compact, and which meets the needs both emerging countries as an entry-level car as well as advanced markets as an eco-car. Following its debut in Thailand where the model is being produced, and rollouts in ASEAN countries and Japan, the Mirage will then be successively rolled out in Europe, Australia and other regions.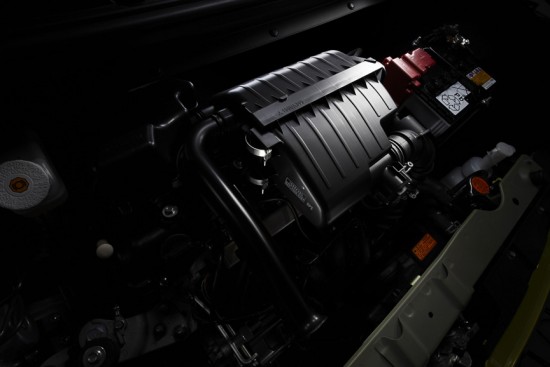 In Japan, the new Mirage will be offered in three trim levels with all models coming with a powertrain mating a new 1.0-liter 3-cylinder MIVEC engine to a new version of the INVECS-III CVT transmission. M and G trim levels employ Eco Drive Assist which promotes smarter and more fuel-efficient driving. AS&G idle-stop and other technologies applied, the M and G trim levels achieve fuel economy of 27.2 km/liter and make the Mirage the most fuel efficient registered gasoline car in Japan. This figure is well over 20% better than Japan's 2015 Fuel Efficiency Standards, which mean these trim levels qualify for the Japanese government's "eco-car" classification thus are exempt from acquisition tax and motor vehicle tax at the time of purchase.


The Mirage uses column-type electric power steering which contributes to better fuel economy. The power steering is tuned to facilitate garage parking and other tight space maneuvering with just a light touch on the steering wheel while giving a positive and reassuring response and feedback when changing lanes on expressways.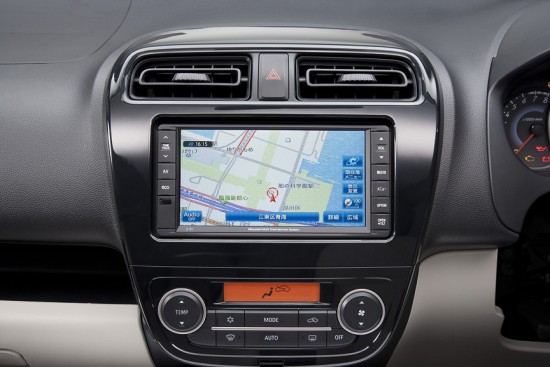 The 2DIN-size in-car entertainment system with a 7-inch display and memory card navigation acoustically tuned for the new Mirage, and an audio system with AM/FM tuner and CD player in a unique panel design coordinated with the dashboard are available as dealer options.


For enhancing convenience in everyday use, the interior comes with well-equipped small-item storage spaces including a front passenger glove box, above that a pull-out dash tray, center console tray, front door pockets, front and rear seat drink/cup holders and front passenger seat back pocket. The 60/40 split rear seatback can be folded forward, allowing the seating pattern to be tailored for different luggage loads.

---
---
---