Mustang 50 Year Limited Edition will be available in either Wimbledon White or Kona Blue
Fifty years after debuting one of the world's most popular cars, Ford is marking the milestone by revealing a Mustang 50 Year Limited Edition. Created to honor five decades of Mustang heritage, only 1,964 examples of the 50 Year Limited Edition will ever be built when it goes on sale this fall. Based on the all-new 2015 Mustang GT fastback with performance pack, the 50 Year Limited Edition is designed to provide customers with outstanding performance and a unique appearance that will be instantly recognizable on the road.


The only options for the 50 Year Limited Edition are the two available colors – Wimbledon White, like Mustang serial No. 0001 that was first sold to Capt. Stanley Tucker in April 1964, or Kona Blue and a six-speed manual or automatic transmission. The Mustang 50 Year Limited Edition will be the only 2015 model with the large faux gas cap badge on the rear fascia, with 50 Years added to the GT designation.

Chrome bezels surrounding the base of each of the three taillamp blades take inspiration from the original 1962 design proposal by Gale Halderman that became the basis for the production model that debuted in 1964. The three individual lamps on each side of that design were combined into a single tri-bar lamp cluster for production, but the original concept has returned five decades on.

The aluminum trim panel that spans the double-brow instrument panel gets an axel spin finish different from other 2015 Mustangs, plus a special serialized 50 Year Limited Edition badge on the passenger side. Each badge will be individually etched at Flat Rock Assembly Plant where Mustang is built.

The limited-edition is the only 2015 Mustang with a cashmere-stitched, leather-wrapped steering wheel. The stitching is also used on the instrument panel, shifter boot, center armrest, door inserts and seats. The seats feature exclusive two-tone cashmere and black leather upholstery, and the Mustang 50 Year logo on the seat backs. Limited-edition cars will be equipped with loop-carpet floor mats with cashmere stitching and suede binding not available on other Mustangs.

Powered by the upgraded 5.0-liter V8 engine delivering more than 420 horsepower and 390 lb.-ft. of torque, every 50 Year Limited Edition will be equipped with the Mustang GT performance pack that includes massive six-piston Brembo front brakes and 19-inch alloy wheels with high-performance Y-speed-rated Pirelli P-Zero summer tires.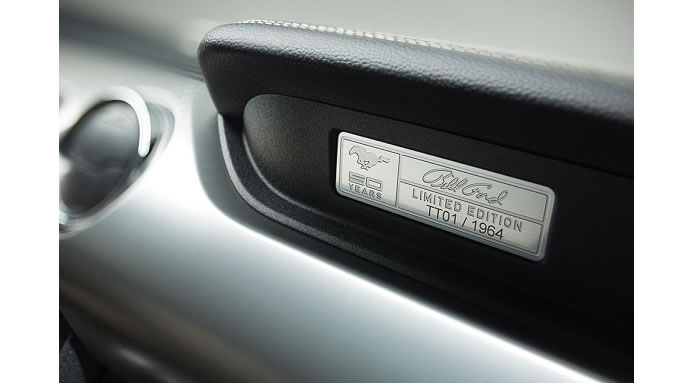 The 50 Year Limited Edition car will be among the first 2015 Mustangs built when production begins later this year. Each of the 1,964 50 Year Limited Edition Mustangs will get a unique owner's guide in a leather portfolio with the 50 Year badge on the outside.


---
---
---