New York Mayor Michael Bloomberg announces Nissan NV200 as city's Taxi of Tomorrow

New York Mayor Michael Bloomberg announced today that Nissan NV200 cab design won the Taxi of Tomorrow contest to become the exclusive taxi specifically designed for the city over 10 years from 2013. The new Nissan NV200 taxis will be custom-designed to meet the specific demands of carrying 600,000 passengers a day in New York City traffic. Along with Nissan, Ford and Turkish automaker Karsan were among the top three finalists in the competition. The city ultimately chose the Nissan vehicle because it scored well with the 23,000 people surveyed as part of the contest. The Nissan NV200 had the highest fuel economy of the three finalists and was the only vehicle to offer future convertibility to fully electric, in six years. Although fuel efficiency was not specifically used to choose the cab, environmental sustainability was the top priority for survey takers. As part of the contract, New York will receive six Leaf electric cars this year to be used as taxis in a trial program.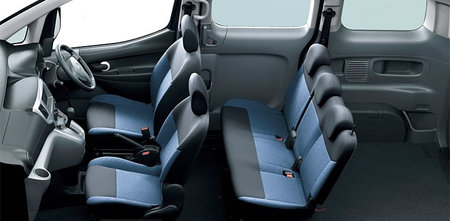 The Nissan NV200 will feature passenger airbags and sliding doors for safer entry. For the first time, the U.S. National Highway Traffic Safety Administration will conduct crash tests with the partition and other taxi-specific equipment installed on the vehicles. A transparent roof panel will be installed to give passengers a unique view of New York's magnificent skyline. The Nissan NV200 will be produced at Nissan's facility in Cuernavaca, Mexico with the first model expected to cost around $29,000, according to Nissan. The first Nissan cab will hit the streets in 2013, with the last of the current cabs, Ford's Crown Victoria sedan, being fully replaced by 2018.
---
---
---