Nissan DeltaWing experimental racecar to change the face of endurance racing forever

Nissan is aiming to change the face of endurance racing forever by becoming a founding partner in the most radical motorsport project of its time – Nissan DeltaWing. A highly-advanced and hugely-efficient Nissan engine will power the remarkable DeltaWing car as it races in anger for the first time at the legendary Le Mans 24 Hours (16-17 June).


Nissan DeltaWing is unlike any other racing car currently on track. The driver sits well back in the car, almost over the rear axle and looks ahead down a long, narrow fuselage to narrow twin front tyres, specially created for the car by tyre partner Michelin. With a rear-mounted engine, the car has a strong rearward weight bias, which makes it highly manoeuvrable, while its light weight and slippery shape make it far more efficient.


A race-prepared 1.6-litre four-cylinder engine, featuring direct petrol injection and a turbocharger, will power Nissan DeltaWing, which is half the weight and has half the aerodynamic drag of a conventional racer. The engine, badged DIG-T (Direct Injection Gasoline – Turbocharged), is expected to produce around 300hp, sufficient to give Nissan DeltaWing lap times between LMP1 and LMP2 machines at Le Mans, despite having only half the power of those conventional prototypes. It features the same technology found in Nissan road cars, such as the range-topping Nissan Juke DIG-T.


Its innovative design and forward-looking technology have encouraged the Automobile Club de l'Ouest (ACO), the organizers of the famous Le Mans 24 Hours, to invite the car to run in this year's race from 'Garage 56', the spot in the pitlane reserved for experimental cars. As it doesn't conform to any existing championship regulations, Nissan DeltaWing will not be eligible to challenge for silverware and will carry the race number '0'.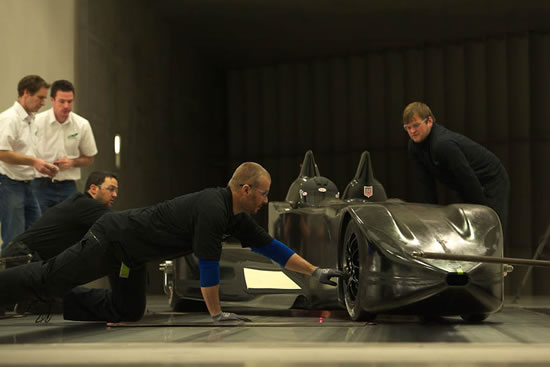 Dan Gurney's legendary All American Racers organization has built the DeltaWing. The new car continues the California organisation's incredible legacy as a race car constructor which has included 157 different cars built – earning major victories in Formula 1, sportscars and the Indianapolis 500.


The first two Nissan DeltaWing drivers to be confirmed are British Sportscar racer Marino Franchitti and Nissan's reigning FIA GT1 World Champion Michael Krumm. The car will make its first public demo laps at Sebring, Florida, at 12.30pm local time on Thursday, March 15.

---
---
---