Nissan e-NV200 Concept Makes World Debut at the 2012 NAIAS

The innovative Nissan e-NV200 Concept, which makes it world debut at the 2012 North American Auto Show in Detroit, serves as more evidence of Nissan's leadership position in the zero-emission automotive industry. Based on the popular Nissan NV200 multi-usage vehicle, the Nissan e-NV200 Concept previews a near-future production version of a full electric vehicle designed to provide businesses or families with flexible, roomy interior space, while achieving a dramatic CO2 footprint reduction. As a potential mass production vehicle, Nissan e-NV200 Concept would also provide a reduction in operating costs compared to current internal combustion engine vehicles.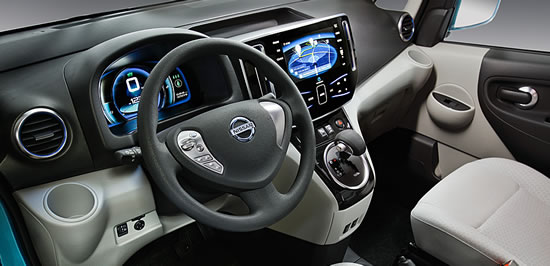 The Nissan e-NV200 Concept exterior starts with a foundation of a production Nissan NV200, then adds strong visual cues from the breakthrough Nissan LEAF EV. The Nissan e-NV200 Concept's EV-style identity starts with its front "face." The wide hood is accented by a large central charging port door, the blue-accented Nissan badge, and sweeping headlights with LED illuminated accents. Large front windows and long rear greenhouse combine with a pair of large glass roof panels to create an airy, open interior environment. The exterior is painted in a customized color, following the concept of the Nissan LEAF's Aqua Blue, which expresses a sense of environmental friendliness.


Inside, the Nissan e-NV200 Concept interior depicts a clean, modern Nissan EV identity through use of the EV meters, blue colored accents and bright interior color palette, while also retaining the NV200's strong functional feeling. The e-NV200 Concept interior also features advanced telematics and a flat C-cluster display that resembles and responds to user input like a tablet computer. The Nissan e-NV200 Concept shares its major drivetrain components with the innovative Nissan LEAF. Silent, zero emission power is supplied is by a lithium-ion battery composed of 48 compact modules and a high-response 80kW AC synchronous motor that generates 207 lb-ft (280 N-m/rpm) of torque.


As a true global product, the Nissan NV200 is produced in Japan, Europe and China, and is currently available in 40 countries. Future launches are planned for North America and India. Undoubtedly its most visible role to date will begin in late 2013 when the Nissan NV200 becomes the foundation for New York City's new designated yellow cab, serving an estimated 600,000 passengers a day.


Interior features planned for the Nissan NV200 Taxi include a spacious cargo area to accommodate luggage for four passengers, sliding doors with entry step and grab handles for easy entry and exit, passenger-controlled rear-seat heat/air conditioning with a Grape Polyphenol filter to improve cabin air quality, enhanced interior materials intended to help passenger cabin smell fresher, and breathable, anti-microbial, easy-to-clean and environmentally friendly seat upholstery.

---
---
---