Nissan to produce only one Bolt Gold' GT-R specifically for global online charity auction on eBay

Usain Bolt, the world's fastest man, is taking his passion for speed and performance, and his desire to help others, and applying them to charity. A unique 2013 model year Bolt Gold Nissan GT-R will go to the highest bidder in a global online charity auction to be held on eBay. The car will feature a gold plate embossed with Bolt's signature and his autograph. Bolt Gold' GT-R will be built to the performance specifications conforming to regulations in the winning bidder's country of residence. Nissan plans to deliver the car to the winner in March 2013.



The online listing can be accessed by people in regions around the world, and bidding will be open to residents in countries where the Nissan GT-R is currently sold. Bidding is set to begin at 12:00 GMT on Thursday, November 22, and ends at 11:59 GMT on Sunday, December 2. The highest bidder in the charity auction will become the owner of the one-of-a-kind Bolt Gold' GT-R, a 2013 model year Nissan GT-R painted the same gold color that left a lasting impression on Olympic champion Usain Bolt at a fan appreciation event hosted by Nissan in Yokohama on October 11.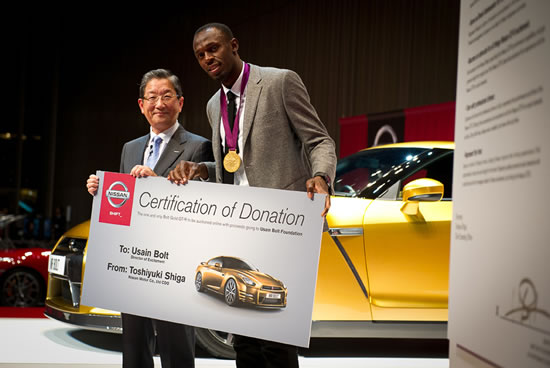 All proceeds from the online charity auction will go directly to the Usain Bolt Foundation,established by Bolt to give back to his community and help children in Jamaica.
---
---
---