Nissan unveils the first new Datsun car for the 21st century- Datsun GO in India

Nissan CEO Carlos Ghosn unveiled the attractive Datsun GO hatchback at a showcase event in India, with Datsun joining Nissan and Infiniti as Nissan Motor Company's third marque. The new model's name was inspired by the first Datsun, the DAT-GO, launched almost a century ago in Japan. The Datsun GO is the realization of the commitment made by Nissan Motor in March 2012 to return the Datsun brand to the marketplace. Datsun is the third brand for the Nissan Motor Company along with the company's Nissan and Infiniti brands. Datsun will play an important role in the Nissan Power 88 mid-term business plan.



The five-door, front-wheel drive Datsun GO hatchback will come with a 1.2 liter engine paired with a five-speed manual transmission that offers optimal response time and agility in congested traffic. With comparatively compact body dimensions (width – 1635mm; height – 1485mm; length– 3785mm), the car is spacious inside thanks to a wide stance and large wheelbase (2450mm), and offers ample headroom and an expanded front seating configuration. It will be a reliable partner for families, providing comfort to five occupants and agility in congested traffic.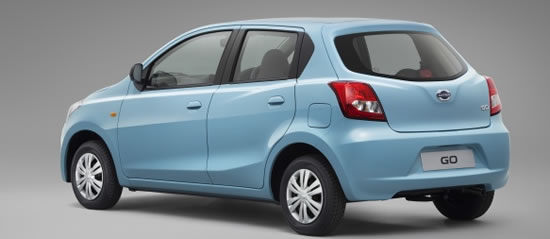 This all-new car has been built to meet the needs of recent rising group of optimistic customers in high-growth markets who seek better value propositions. These are people who want transportation that supports their everyday needs, but that also fulfills their dreams and ambitions for a better tomorrow. They are literally "on the move." They want to GO further, so the name of the car reflects this aspiration.


For those customers never wanting to part with their favorite music and pictures Datsun GO will offer a very practical solution – Mobile Docking Station to connect with their smartphones. Datsun GO is high-quality, stylish and modern, delivering an engaging driving experience. The overall Datsun customer offer will include a worry-free ownership experience, competitive total cost, accessible services, with transparent pricing, and dealership proximity.


Datsun models will be individually developed for different markets, but the concept will follow a common inspiration. Datsun GO will be the first of several Datsun models that will be launched later in 2014 in Indonesia, Russia and South Africa. Datsun GO is expected to be "a category up" in its price range, attractively priced below INR 400,000 ($6666). Datsun GO will be produced at one of the newest Renault-Nissan Alliance factories at Oragadam, in Chennai.

---
---
---