Nissan Unveils the ultimate all-terrain rescue pick-up with portable EV battery power and a DJI Phantom 4 Drone
Nissan unveiled an all-new vehicle Nissan Navara EnGuard Concept at the 2016 Hannover Motor Show. Based on a Double Cab Tekna version of the Nissan Navara – the current holder of the International Pick-up Award – the Navara EnGuard Concept features many bespoke design elements and performance upgrades. It is also packed with vital equipment suitable for emergency and disaster recovery work, including an advanced drone to provide vital intelligence about what dangers rescue crews might face.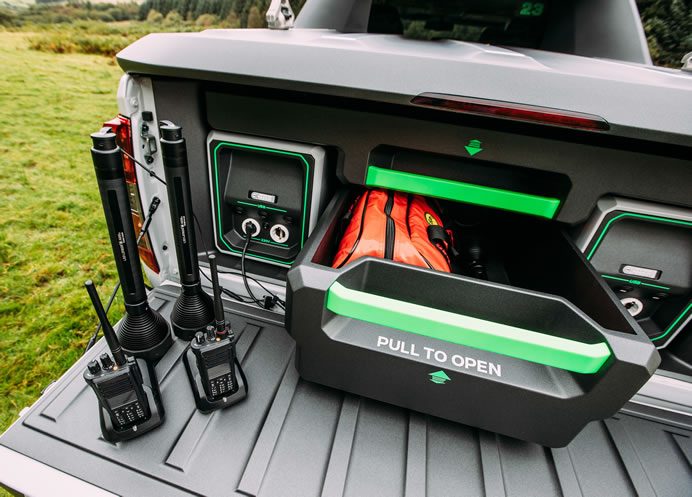 Nissan Navara EnGuard Concept marks the world debut of a prototype portable battery pack, designed and developed by Nissan. It utilises the brand's tried and tested EV battery technology, already available on the road in the 100 per cent electric Nissan LEAF and e-NV200. When docked in place the battery packs are constantly in 'charge' mode, using power generated by the vehicle's 2.3-litre 190PS twin-turbo diesel engine to ensure they're ready for emergency use when required. Two input (charge) sockets and five output (discharge) sockets are integrated into each battery pack, which features recessed ends to allow it to be carried easily.

Occupying the rest of the space in the load bed are two pull-out fibreglass trays. The shallow upper tray contains lightweight items such as two-way radios, ropes and an axe. The lower tray is deeper and narrower, storing larger items such as an oxygen tank and resuscitation kit, life jackets and buoyancy aids. Key to the car's rescue role is a drone, a DJI Phantom 4 with an operating ceiling of 6,000 metres. Weighing just 1,380 grammes, it can fly at speeds of up to 20 metres per second for close to 30 minutes and can relay images back to the concept car. These are viewed on a pop-up HD screen hidden in the load bed wall.

Compared to the standard Nissan Navara, the overall ride height of the Navara EnGuard Concept has been raised by 50mm. The passenger compartment features a completely redesigned roof line, which is 136mm higher than on the standard Navara. It incorporates a powerful 360 degree LED lighting rig, with emergency blue strobe lights fitted to the four corners and visible from any angle.

Matching strobes are integrated into the top of all four overfenders, plus in the redesigned front fog lamps and redesigned rear light clusters. Nissan Navara EnGuard Concept is built around a rugged ladderframe chassis, but features a new fully adjustable performance suspension system with uprated nylon bushes to further improve off-road capability
---
---
---