Panasonic to Supply Electric Drive System for Suzuki e-Let's electric scooter with a detachable battery

Panasonic will supply its electric drive system for Suzuki's e-Let's electric scooter-which has an enhanced usability by equipping a detachable battery, to be released in January 2012 in Japan. The Panasonic electric drive system consists of four components: a high performance in-wheel motor and a high efficiency control circuit primarily developed by the Panasonic Group, as well as an electric motor battery system using consumer-use lithium-ion batteries and a dedicated charger. A single charge from a Japanese 100V household outlet takes approximately four hours, giving a range of about 30km.


The compartment under the seat can carry either a charger or a spare battery, thus making it more convenient to charge away from home. It can also extend its range by replacing with a fully-charged battery, so it can be utilized to suit the purpose.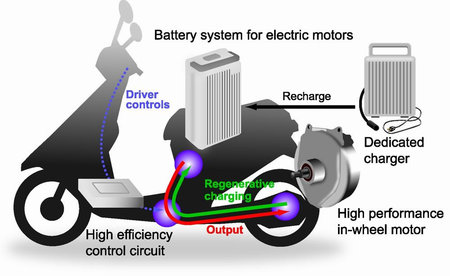 Amid growing public concern over environmental protection, the development of electric vehicles, including two-wheelers and automobiles, is gaining momentum. Building on its experience in the electric assist bicycle market, Panasonic has been cultivating technological expertise in drive motors and control circuits. In September 2010, Panasonic in collaboration with Suzuki, succeeded in developing a high performance in-wheel motor with regenerative braking capabilities and a high efficiency control circuit for Suzuki's prototype electric scooters, which have undergone on-road testing.

---
---
---