Samsung and Trek Bicycle to provide a better cycling experience for racers and casual cyclists
Samsung announced a new global partnership with Trek Bicycle, a leading worldwide bicycle manufacturer. Samsung and Trek will join together to provide a better cycling experience for racers and casual cyclists, and support their healthy lifestyles and enjoyment of the sport. As part of the partnership, Samsung will work closely with Trek to identify opportunities and challenges faced by the Trek Factory Racing Team, a top professional cycling team that competes on the UCI World Tour, beginning with Tour de France.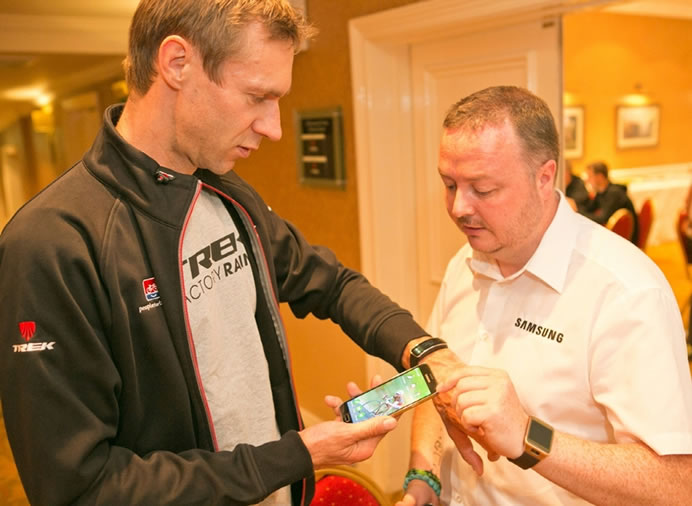 The racing team will integrate Samsung mobile devices into the team training to improve efficiency. With the Samsung Gear devices, the team can better monitor their health, racing cadence and speed. Through the Samsung tablets, the team can more effectively strategize, communicate, and plan race routes. The feedback from the cycling team will also be reflected in Samsung's future product development and enhancements designed for the mobile product experience. Samsung will provide the team, coaches, and staff with its mobile devices including the Galaxy S5, Gear portfolio (Gear, Gear 2, Gear Fit) and tablets to advance their training and cycling experiences.

With the Galaxy S5 and Gear devices, Samsung introduced its health-related solutions and technologies, including S Health 3.0, HRM capabilities, and fitness features. Samsung is committed to continuing its effort to help people stay fit and active, while constantly exploring various opportunities to bring its new product technologies and retail operations to consumers who enjoy sports in their daily lives.

---
---
---