Solar Impulse with wingspan as wide as Airbus A380 arrives in Paris for air show debut

Solar Impulse, the Swiss solar-powered aircraft finally arrived in Paris after three days' delay on Tuesday for a debut at the biennial International Paris Air Show. The 1.6-ton solar-powered plane was expected to land in Paris on Saturday but technical problems and bad weather forced it to turn back to Brussels. The Solar Impulse took its first international flight from Switzerland to Brussels on May 13 and then marked its second international flight to Paris.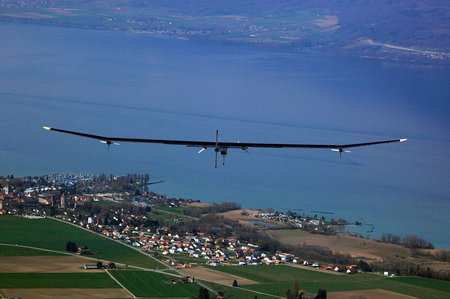 It has 12,000 solar cells mounted on the wings, which provide momentum for its four electric motors. Solar Impulse is the first aero plane designed to fly day and night without requiring fuel and without producing carbon emission. The 64-meter-wingspan (as wide as an Airbus A380) can fly at extremely slow speed and has a weight equivalent to that of an average family car.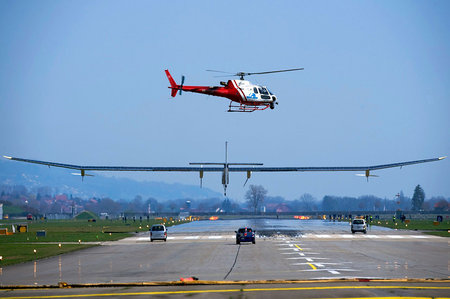 Solar Impulse made a historic 26-hour day and night flight without fuel in July 2010. During the Paris air show from 20 to 26 June, visitors can enjoy a close look at the innovative plane on ground every day and if weather condition permits, flying displays will take place. According to Paris Air Show organizers, 59 of the top 100 companies in the air industry worldwide will be present. More than 1,800 small and medium-sized companies will be exhibiting their products during the one-week show.

---
---
---