Toyota FT-EV II concept Electric Vehicle has no steering wheel or foot pedals!

The Toyota FT-EV II, which stands for Future Toyota Electric Vehicle II, is a concept car created from the core technology of the Toyota Hybrid System in the pursuit of the ultimate environmentally-considerate vehicle. Its lithium-ion battery provides a cruising range in excess of 90km on a full charge, which is more than enough for everyday use, and a maximum speed in excess of 100km/h. The vehicle has no steering wheel or foot pedals-symbols of vehicle performance. In addition, it has not been designed simply as a means of transport, but instead based on the premise of collaboration with communications functions, a concept that differs from earlier vehicles.


Enhanced communications functions enable the linking of individual drivers' information on a network, allowing the vehicle to connect with services that go beyond car navigation, such as recommending information tailored to the individual's preferences and downloading music and movie content. Furthermore, the vehicle can connect to home networks to play a role in storing energy and saving large volumes of data, making the vehicle a new information device in the networked society of the future.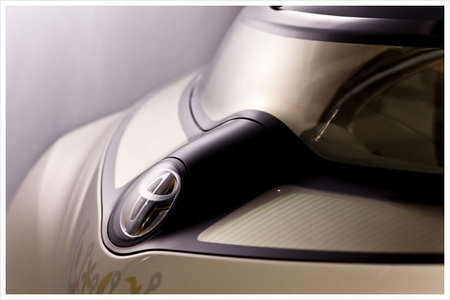 The FT-EV II is not simply an electric vehicle designed for a post-fossil fuel era, but is a sustainable concept car that focuses on the relationship between cars, people and society of the future. The FT-EV II is primarily designed for short-distance travel and is positioned as a commuter vehicle for urban use, but as it integrates communications, it will become a device that can provide completely new links between vehicles and people.
---
---
---