World's fastest electric car Ultimate Aero EV can reach speeds of 208mph

The world's fastest electric car that can reach speeds of 208mph has been unveiled. The Ultimate Aero EV created by Shelby Supercars utilizes a twin motor AESP producing an astounding 1,000 HP and 800 lb-ft of torque enabling it to rocket to 60 mph in a mere 2.5 seconds and reach a top speed of 208 mph. Not only does the Ultimate Aero EV have a range of 150-200 miles on a single charge, but SSC's Charge on the RunTM onboard charging system allows for full battery recharges in as little as 10 minutes. SSC's 3-speed automatic transmission transfers the Ultimate Aero EV's power to its wheels and achieves electronically controlled shift times of .24 s. In contrast the current electric sports car flagbearer, the Tesla Roadster which was recently tested by Jeremy Clarkson on Top Gear, produces 250 horse power.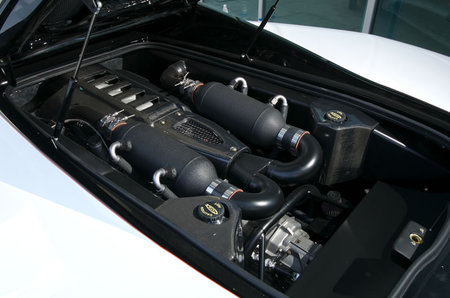 Once the Ultimate Aero EV's batteries are charged it will have a range of between 150 and 200 miles.
The manufacturer expects to roll out pre-production versions of the vehicle, which has a three-speed automatic gearbox, by June. The petrol-engine SSC Ultimate Aero TT is currently the fastest production car in the world, with a fastest recorded speed of 257 mph.This speed was reportedly achieved during tests on September 13, 2007 in West Richland and verified by Guinness World Records on October 9, 2007.
---
---
---