2020 Nissan GT-R NISMO put to the test
Nissan recently invited members of the media to EuroSpeedway Lausitz, a race track in Germany and the surrounding environs, to accomplish one goal: experience the precision engineering of the new 2020 GT-R NISMO in the region that highlights it best. There are many incredible driving locations around the world, but only in Germany does a driver find the combination of high-speed road and track experiences that truly showcases the GT-R NISMO's "absolute total racing performance."The 2020 GT-R NISMO is a more extreme, track-oriented version of the GT-R that has matured through rigorous refinements, and become sharper and more rewarding as a street car.
The 2020 GT-R NISMO is about total balance. New, race-proven turbochargers, improved gearbox shift control, lighter components, reduced overall mass and upgrades to the brakes, wheels and tires contribute to a 2.5-second reduction in lap time around Nissan's development track, not to mention an improvement of the GT-R's inherent high speed stability, even at speeds of up to 186 mph (300 kph). Here's how Nissan achieved this remarkable improvement.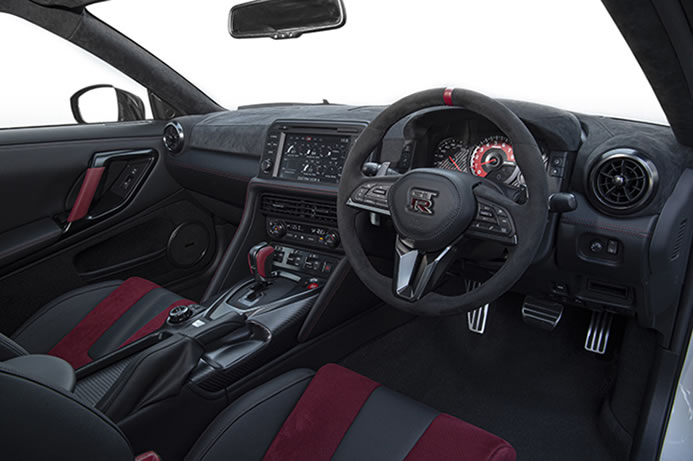 Inside the cabin, the exclusive GT-R NISMO front seats created by Recaro have been enhanced for 2020 to offer better containment for the driver and passenger (not available in the U.S./Canada). This is achieved through a three-layer structure in which carbon fiber sandwiches a main inner section to improve the way the upper body is supported.  Only one interior color combination is available, a NISMO-specific black leather with red accents. The seat inserts are Red Synthetic Suede, and there is Dark Gray Alcantara on the steering wheel, dashboard and roof liner.
Chief Product Specialist Hiroshi Tamura – known as "Mr. GT-R" – has been at Nissan for more than thirty years. Dedicated to evolving and improving the GT-R, he has been part of almost every step of the model's evolution. Tamura ensures the GT-R continues to evolve year in and year out, staying atop a growing field of competitors, including the most expensive crop of supercars – and in some cases hypercars. Color choices for the 2020 Nissan GT-R NISMO include Solid Red, Jet Black Pearl, Super Silver Quadcoat and Pearl White Tricoat. All color schemes feature black side mirrors that differentiate the car from other GT-R models.
---
---
---