Animal shaped 1GB Wooden USB drives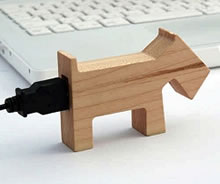 Marubeni InfoTech, Japan has launched "ANIMAL USB Flash Drive" 1GB capacity USB drives. These cute animal shaped USB memory drives are made from natural wood in different animal shapes. Maple and walnut wood is used. Total 10 different types of animal-shaped silhouette extracted from the wood block are available.

The wooden USB optical mouse is very comfortable to use.The mouse measures 53x88x27 mm, weigh 70g and is compatible with OS Windows Vista/XP/2000, Mac OS X 10.3.9. The wooden optical mouse will be available in Japan for approximately 9,800 yen ($89) and the 1GB animal-shaped silhouette wooden USB drive for 7,980 yen ($72). Both the products will be available from September 1st.
---
---
---