Asus launches ASUS Eee Note EA-800 handheld tablet with ultra-sensitive handwriting input
Asus Eee Note digital notepad EA-800 is a slim and lightweight handheld tablet device with ultra-sensitive handwriting input that does away with the need to carry bulky notepads and books. Designed for easy handwritten input using the supplied stylus, the Asus Eee Note has an 8-inch glass touch-screen with a matte finish that mimics the smooth feel of paper. The ultra-sensitive digitizer captures every stroke of the stylus with extreme accuracy on the 2450 DPI screen for pixel-perfect renditions of everything from notes to sketches. Images are displayed in 768×1024 resolution in crisp monochrome, and the non-backlit display stays crisp and clear even in broad daylight.


In addition to its outstanding digital notepad features, the Eee Note is also an extremely capable ebook reader. Up to 10,000 ebooks can be stored in the Eee Note's 4GB of internal memory, which can be further expanded using the external micro SD Card slot. Annotation of books and support for a wide range of ebook and document formats, including PDF and ePub, makes the Eee Note a versatile digital reader for both work and pleasure.

The integrated 2 megapixel digital camera and voice recorder also allow other types of material to be captured with ease and a wide array of built-in document templates make the Eee Note ideal for recording information in all manner of areas. With MP3 music files also supported, this means the Eee Note is as capable of playing music and audio books, while the built-in Longman dictionary, calculator and sticky note applications help cut down desktop clutter.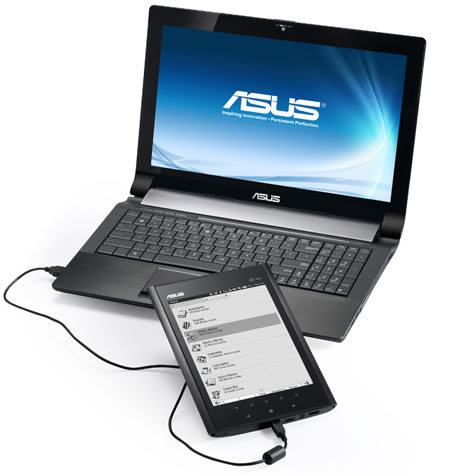 Although capable of carrying a complete, personally annotated library within its slender 520g frame, the Eee Note also provides access to online resources like Wikipedia and ebook retailers via internal Wi-Fi. PC connectivity comes courtesy of a micro USB port, and built-in EverNote support also makes two-way synchronisation with other computers in the cloud a cinch. The long 13.5-hour battery life also means the Eee Note can last through even the longest days between recharges.
---
---
---