Boeing 787 Dreamliner completes its maiden trans-Pacific journey and arrives in Japan

The long-delayed Boeing 787 Dreamliner completed its maiden trans-Pacific journey and landed in Japan, where the more fuel-efficient jet will undergo testing this week with All Nippon Airways in preparation for its first commercial launch. The 787's much-anticipated arrival marks the near-end of a long wait by ANA, the first customer in line for the next-generation aircraft. Boeing missed the initial May 2008 delivery target and has repeatedly delayed its introduction because of problems in development. The twin-engine Boeing 787 Dreamliner is made mostly of carbon fiber and other composite materials instead of aluminum, making it lighter and 20% more fuel-efficient than other mid-sized airliners.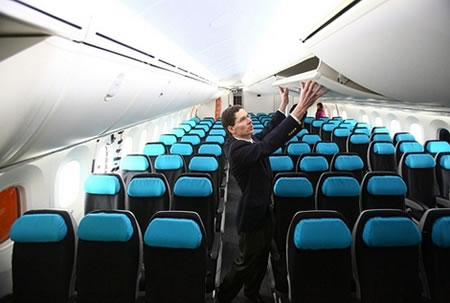 The cabin will have bigger windows and larger overhead compartments. ANA also says passengers will be more comfortable because air pressure during flights will be equivalent to an altitude of 6,000 feet instead of the conventional 8,000 feet.


As airlines around the world grapple with rising fuel prices, demand is high for low-consumption planes. Boeing has taken orders for 835 of the Dreamliners, and hopes to deliver the first one to ANA in August or September. ANA has ordered 55 787s. Qantas and United Continental Holdings Inc have each ordered 50, and Japan Airlines has ordered 35. ANA plans to use it on a number of new long-haul routes that were not previously commercially viable because there were not enough passengers to justify using larger aircraft such as the Boeing 747.


The test aircraft will fly several of ANA's domestic routes out of Tokyo this week to confirm the jet's readiness for passenger travel. Maintenance crews will also practice refueling, towing and other routine servicing operations. It is scheduled to depart for Seattle on Saturday, according to ANA.
---
---
---