Casio Announces G-SHOCK Triple Graph Dial GM-6900 Series Featuring Stainless Steel Bezel with Quality Finish
Casio announced today the release of new additions to the G-SHOCK line of shock-resistant watches. Three new GM-6900 models features metal bezels. The 6900 series, which has been nicknamed "Triple Graph," is characterized by three round indicators. Starting with the DW-6900-1V, released in February 1995, the 6900 series has been extremely popular, especially in street fashion as the base model for collaborations with fashion brands.

The two models with black bands – GM-6900 and GM-6900G  provide a choice of silver or gold bezels, while the red translucent band model features a black bezel. Shiny mirror and matte hairline finishes are combined in a bold bezel shape that stylishly accents the wearers' fasion. It is a unique design that bring outs the distinctive beauty of metal.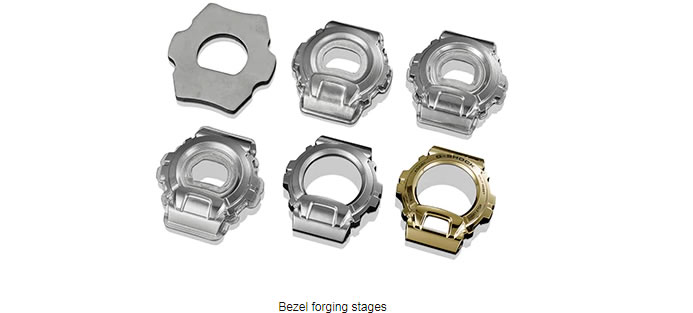 The three new GM-6900 models- GM-6900,GM-6900B and GM-6900G,  mark the first addition of a stainless steel bezel with a quality finish to this base model, giving them a strong presence. The 6900 bezel has an intricate shape that includes many fine details such as button guards. After a shaping process that involves approximately 20 forging stages and several cutting and polishing steps, each piece is carefully finished to achieve the characteristic 6900 bezel in metal.

To celebrate the 25th anniversary of the 6900 series, Casio will also release two special DW-6900SP models – DW-6900SP-1 and DW-6900SP-7 made from translucent material and featuring a colorful design inspired by the number 25. Translucent resin is used for the case and band, while the face features color gradation that changes depending on the angle to the light.
The screens of each of the three indicators from left to right are blue, green and pink, resulting in a colorful look befitting commemorative models. The special digital display features a background monogram to commemorate the 25th anniversary. The G-Shock DW-6900SP-1 & DW-6900SP-7 will be available in Japan from February 12, 2020 with a list price of 15,400 JPY ($141) each (tax included).
---
---
---