Casio Announces MT-G Watches with Built-In GPS Hybrid Wave Ceptor Time-Keeping System
Casio will soon release the latest additions to its G-SHOCK MT-G line of shock-resistant watches- new MTG-G1000D watches. New Casio MTG-G1000D watches are equipped with Casio's revolutionary GPS Hybrid Wave Ceptor time-keeping system and are designed with the dignified and refined look that has made the MT-G line so popular. The new models to Casio's MT-G series of watches feature both comfortable-to-wear resin and beautiful metal with a refined finish.


The MTG-G1000D lineup comes with the GPS Hybrid Wave Ceptor time-keeping system for receiving both GPS satellite signals and radio wave time-calibration signals. Casio also equipped the watches with its Dual Coil Motor, which enables the watch hands in the inset dial at the 6 o'clock position to move at high speed both clockwise and counterclockwise, allowing the time shown in the dial to change quickly and easily when world time functions are used. The user's home time and world time can also be instantly switched between the main dial and inset dial just by pressing the upper right button of the watch.

Casio refined its Core Guard Structure especially for these MT-G watches. It improved the watch's resistance to shocks from the surface by shaping parts to protect the module and by adopting a new spring-like fine resin sheet as a cushioning material. Casio also took great care to create watches with the stunning good looks customers expect, employing Sallaz polishing on the case to create a beautiful and brilliant finish, and using sapphire crystal for the watch face. With this combination of strength, beauty and accuracy, the new MTG-G1000D models are perfect for tough men on the go internationally.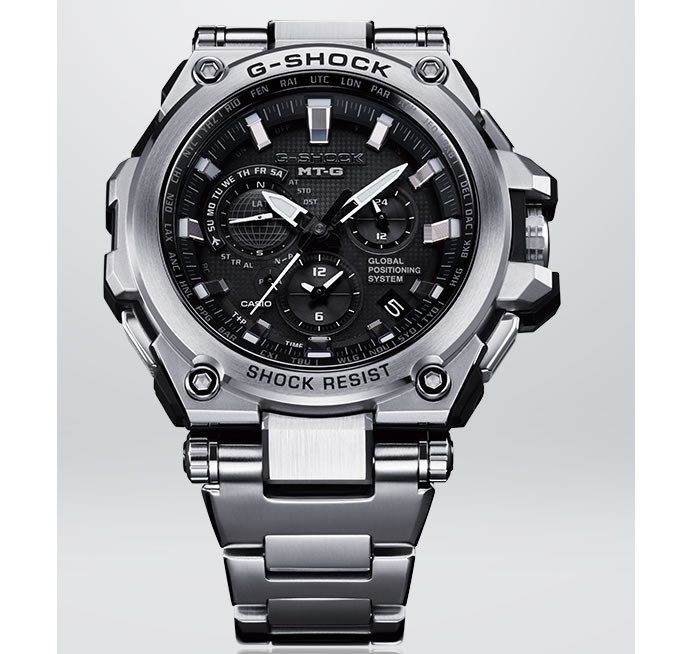 ---
---
---