Casio EX-ZR3600 Digital Camera's Make-up mode gives Skin a Healthier and Fresher Look
Casio announced today the release of the EX-ZR3600, the latest addition to its EXILIM family of digital cameras. The EX-ZR3600 comes with Make-up mode, which makes skin look brighter and more naturally beautiful. The new Casio EX-ZR3600 comes with a 1/1.7-inch back-illuminated CMOS image sensor with a large surface for receiving more light when shooting in dim lighting and for high-speed burst shooting.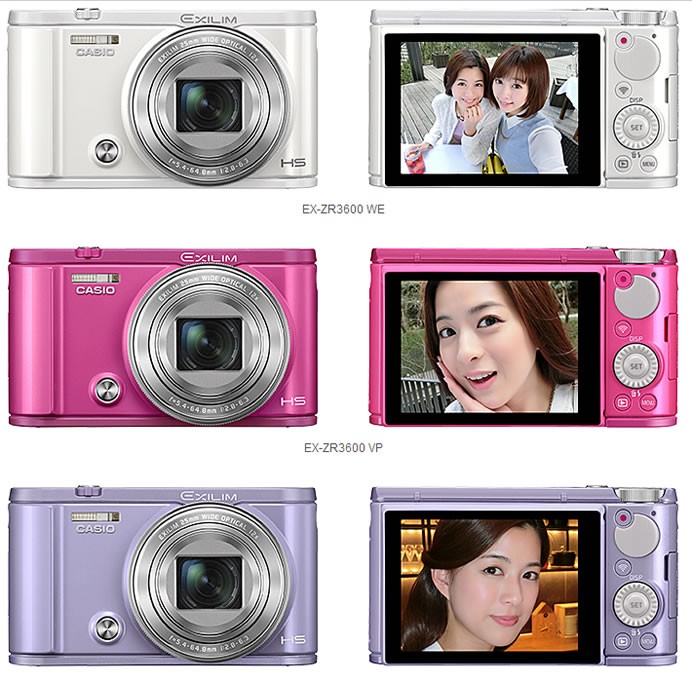 The EX-ZR3600 features the same large sensor found in the EX-TR70, enabling the camera to express subtle details and bring out feminine beauty with remarkable clarity. Make-up mode can be applied to give skin a smooth, fresh look, and users can adjust it as they like.

The tilt-type LCD enables users to check the angle of the shot while composing a self-portrait and the convenient Front Shutter makes it easy to take vertical self-portraits. These features make the EX-ZR3600 ideal for taking self-portraits. The EX-ZR3600 also comes with Highlight Movie and Highlight Photo modes, which give users a new way to use the images they have shot, by producing a digest of the day's images using a proprietary algorithm.

EXILIM Auto Transfer automatically sends images that have been shot to a smartphone, and has been enhanced to make it even more convenient to share or automatically send images. The One Time Share feature makes it easy to share an image with someone's smartphone without having to exchange addresses, just by reading a QR Code.

Casio launched the EXILIM TR series of cameras with a rotating frame and monitor in 2011. Featuring Make-up mode and an optimal design for taking self-portraits, the TR series has proven popular especially among young women, as beauty items that are no longer seen as a conventional camera. The most recent EX-TR70 has proven popular for its Make-up mode that gives skin a healthy and fresh look, to express the ideal of beautiful skin.Casio EX-ZR3600 camera measures 108.3x 61.5 x 36.7mm and weighs approximately 249 g (Including Battery and Memory Card). Bundled accessories include:- Rechargeable Lithium Ion Battery (NP-130A), USB-AC Adaptor(AD-C53U), Neck Strap, Micro USB Cable, AC Power Cord, Basic Reference.
---
---
---