CORSAIR launches new 32GB VENGEANCE LPX DDR4 Memory
Corsair today announced the addition of 32GB modules to its range of VENGEANCE LPX high-performance DDR4 memory – the first time that such a capacity of premium DRAM has been made widely available to consumers in a standard size DDR4 module. Launching in frequencies of 2,400MHz and 2,666MHz in kits of 1x, 2x ,4x and 8x modules, or 3,000MHz in kits of 1x and 2x modules, user will be sure to find a configuration to fit his custom PC and take its memory capacity up to 128GB on mainstream 4-DIMM slot, and up to 256GB on high-end desktop 8-DIMM slot motherboards.
The new modules are thoroughly tested for wide compatibility with most current DDR4 motherboards and are designed for high-performance overclocking with a pure aluminum heatspreader.  VENGEANCE LPX high-performance DDR4 memory is available in multiple colors to match your system's look. Today Corsair also launched its new TUF Gaming VENGEANCE RGB PRO DDR4 memory in 16GB kits (8MBx2). Corsair is proud to be a partner in the AsusTUF Gaming Alliance, with premium RGB memory sporting the signature TUF Gaming aesthetic, guaranteed for compatibility with any TUF Gaming motherboard. All CORSAIR RGB DDR4 memory is now compatible with ASUS Aura Sync RGB motherboard control.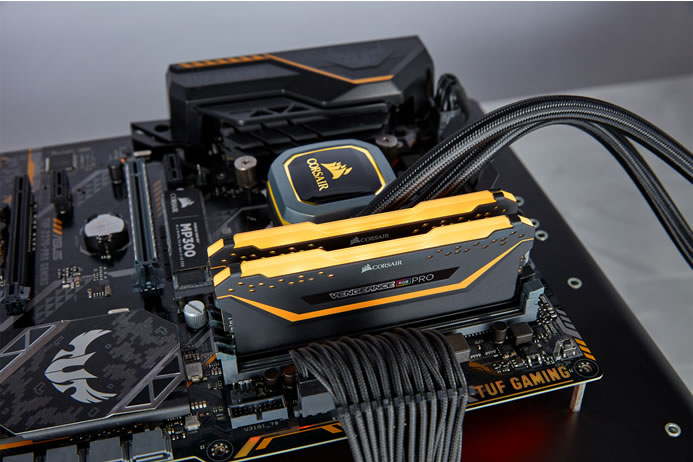 ---
---
---