Creative announces Creative Outlier Air V3 true wireless earbuds
Creative today announced the release of the Creative Outlier Air V3, the latest addition to its best-selling true wireless in-ear series. Redesigned with a sleeker and better-fitting form factor, Creative Outlier Air V3 sweatproof earbuds are lighter, yet feature meatier improvements from its predecessor – including beefier audio quality and battery life, ambient noise control, Bluetooth 5.2 connectivity, quad microphones and wireless charging. The Outlier Air V3 comes with the new Creative app, offering users a high level of personalization with its functions.

The Creative Outlier Air V3 retains the series hallmark of great battery life, boasting up to 10 hours per charge and 40 hours in total. The touch controls on the earbuds are sensitive to tap commands, which can be customized according to user preferences on the app, so that each Outlier Air V3 is truly the user's own. The call quality on these earbuds has been improved, with quad microphones (two on each earbud) enabling better voice pick-up and background noise reduction, so that users can fully enjoy long heart-to-heart calls wherever they are.
With the new Ambient Mode and Active Noise Reduction features – through the Creative mobile app, users have full control if they want to be fully immersed in their music, shut out environment noise for important calls, or be more aware of their crowded surroundings when out jogging. The wearability of the Outlier Air V3 remains top-notch – these earbuds come with different soft silicone ear tip sizes designed to match varying ear shapes to achieve the optimal seal for maximum comfort. It is also lighter than ever, weighing just 5.2g.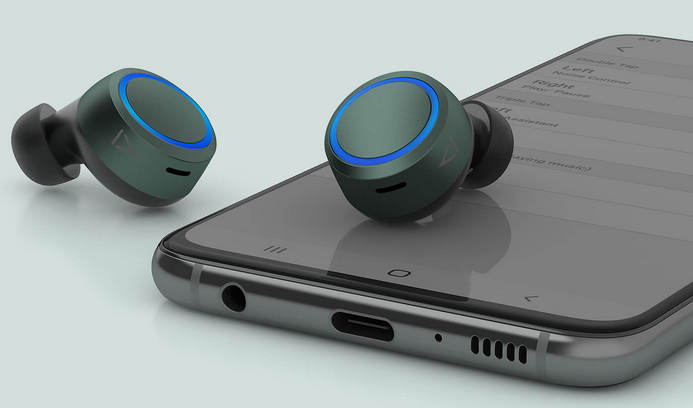 Creative Outlier Air V3 supports Super X-Fi READY. Users can enjoy Super X-Fi headphone holography, which recreates a multi-speaker system soundstage, on local content inside their phones. The Creative Outlier Air V3 is available at a promotional price of S$89 at Creative.com
---
---
---