Fujifilm announces Compact Ultra Zoom camera FinePix F900EXR with World's Fastest AF and Wireless Image Transfer
Fujifilm today announced the release of the fujifilm-announces-finepix-xp60-rugged-camera.php" title="Fujifilm announces FinePix XP60 rugged camera">FinePix F900EXR travel zoom camera; latest addition to Fujifilm's F series. From 25mm (wide) to 500mm (telephoto), the F900EXR offers an impressive zoom range in a very slim-line camera body. With the ability to combine the 20x optical zoom and the intelligent digital zoom to allow magnification up to 40x, the F900EXR will capture crisp images of subjects at an impressive distance. The bespoke 16 million pixels 1/2″ EXR-CMOS II back-side illuminated (BSI) sensor has been engineered to ensure that there will be enough light available for Phase Detection AF at larger apertures and in circumstances where the angle of incidence light is high.



The F900EXR's new Intelligent Hybrid AF system focuses in as little as 0.05sec. When employing the new Phase Detection AF which uses special new pixels that have been added to the EXR-CMOS II sensor. The camera automatically switches between Phase Detection AF and Contrast Detection AF depending on the subject and scene, guaranteeing superb ease-of-use and fast, accurate autofocus no matter what the setting or shooting conditions.


The F900EXR's new wireless feature lets you transfer photos and movies from the FinePix F900EXR to smartphones, tablets, and computers.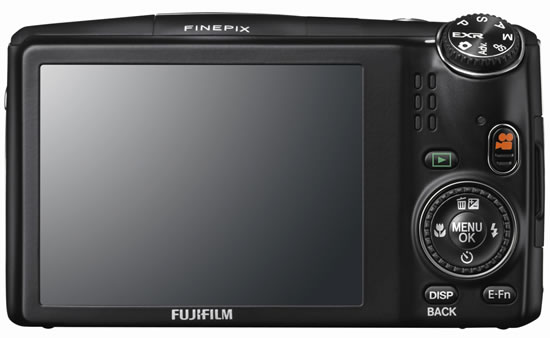 The camera's bright, high-precision, premium 3.0-inch, 920,000-dot LCD monitor offers a Monitor Sunlight mode for enhanced viewing in bright sunlight and a greatly improved viewing angle, particularly diagonal direction, thanks to employing the special film. The viewing angle allows photographs to be taken from higher angles and lets you view pictures during playback from awkward angles without difficulty.


Shoot video footage in Full HD at a smooth 60 frames per second with improved Phase Detection AF without losing any of the superior color reproduction qualities offered by the EXR-CMOS II sensor with high bit rate. Fujifilm FinePix F900EXR targeted at an audience looking for excellent image quality, long zoom capabilities and advanced features, in a lightweight and slimline body.
---
---
---