Huawei unveils Huawei P8 and Huawei P8max in London
Huawei today announced the global launch of its two latest P Series smartphones – the user-friendly Huawei P8 and the Huawei P8max in London. The Huawei P8max builds on the beauty of the P8 design and features a larger 6.8-inch screen, longer battery life and a unique camera with light tracing for any environment. It also inherits the elegant ID design and extraordinary light painting capabilities of the P series devices. The Huawei P8max uses a 6.8-inch high definition JDI screen that is the largest in-cell FHD screen in the world.



The 16:9 screen enables the device to be slimmer, with a better feel and easier to carry. The smartphone supports landscape mode, which enables consumers to view and read on the phone, while color enhancement technology enables a better visual experience. The Huawei P8max offers consumers with the best instrument for art through a light painting function and video filming function that reduces later editing. It also has face-enhancing, Selfie, Pano, and Lapse modes for photo-taking. The large screen of the Huawei P8max enables consumers to create and enjoy the freedom of creating art.

The front and rear cameras of Huawei P8max use a 5+13 mega pixel combination and the rear camera is equipped with a professional-grade Image Signal Processor (similar to the technology found in DSLR cameras) and dual-tone flash to bring out true color in night photos.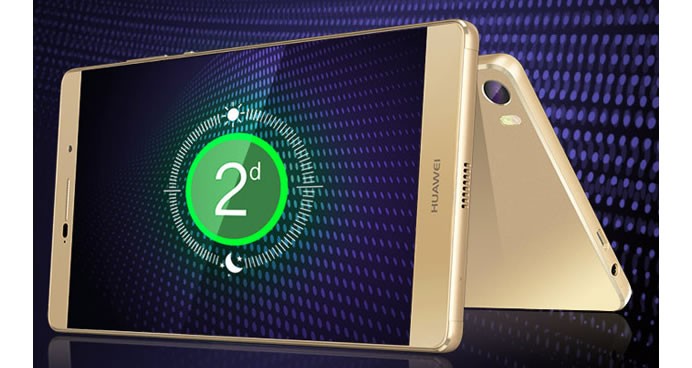 The large 4360 mAh battery features Huawei's power saving technology and power consumption management technology that ensures outstanding battery life. With this battery, consumers can watch downloaded video for over 15 consecutive hours.


The biggest characteristic of the Huawei P8max is the non-cut back of the smartphone with a metal ratio of 94 percent. The entire body of the device is cut from an aerospace grade aluminum block. The smartphone uses the same DX19 high thermal conductivity alloy that's found in some luxury automobiles; the thermal conductivity coefficient is nine times higher than that of stainless steel, and 3.8 times higher than aluminum – the magnesium alloy used in most phones. There are two versions of the Huawei P8max; the standard device for €549 ($593) and the premium version for €649 ($702), will be available in more than 30 countries.

---
---
---