Jim King MM1000 digital ear cuts noises around you for a more relaxed atmosphere
Jim King Japan today announced the MM1000 digital ear. This device cuts the surrounding noise so you can hear peoples voice clearly. The MM1000 digital ear equipped with noise-canceling technology can bring down the noise level of air conditioning in cafes etc and sound of air conditioning in vehicles up to 90%. Basically such sound is in the 300Hz spectrum. Once this spectrum of noise is cancelled, the user will be able to hear clearly human voices, announcements in public places and ring tone sounds more clearly.



Jim King MM1000 digital ear is suitable when you want to focus in cafes and libraries or when you want to relax in a vehicle such as an airplane. It is found that you cannot concentrate or relax easily with such noise around you. Common environmental noises are – engine sound of the vehicle and sound of running train, blowing noise of air conditioning and motor sound of the refrigerator etc. MM1000 is the perfect device for you when you are in such types of surroundings.


A small microphone built in the earphone picks up environmental noise and creates a wave of opposite phase to cut the surrounding noise. Jim King MM1000 cuts about 90% of environmental noise (noise cancellation level -maximum-20dB). With retractable earphone cord it very easy to carry the MM1000. Jim King MM1000 digital ear is powere by a AAA rechargeable battery. With eneloop rechargeable battery, you can use MM1000 for approximately 60 hours continuously. The device measures 64 × 64 × 14mm, weighs 33g and is available in White color for approximately 5,229 yen ($51) in Japan from March 7.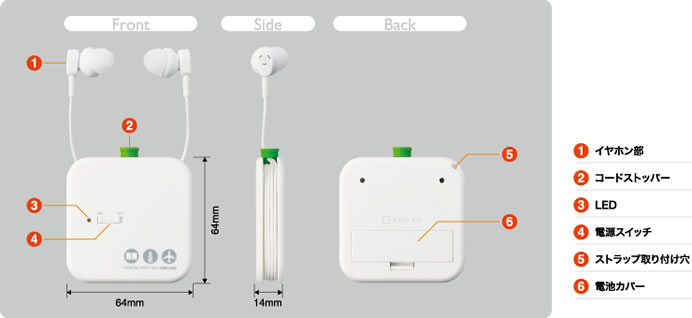 ---
---
---