LG and ASSA ABLOY Develops World's First Transparent OLED Automatic Door That's also a Digital Signage
LG and ASSA ABLOY Entrance Systems (a global leader of automated pedestrian, industrial and residential doors and service), announced today the development of world's first transparent OLED automatic door that's also a Digital sign. The innovative, first-of-its-kind customer experience solution will be unveiled this week with specialized commercial applications in mind. Thanks to LG's WRGB technology, the self-lighting OLED pixels reproduce accurate colors with exceptional brightness and high contrast. LG's Transparent OLED technology is expandable and can be easily customized for a variety of doors and entranceways.
The new product combines LG's Transparent OLED signage (model 55EW5G) and SuperSign software-based integrated content management solution with the automated glass sliding doors of the Swedish manufacturer ASSA ABLOY Entrance Systems to deliver a transparent product. In addition to providing convenient and touchless access to buildings and structures, the Transparent OLED Automatic Door will present new opportunities for greeting customers, communicating with employees and delivering advertising and marketing content unobtrusively to consumers.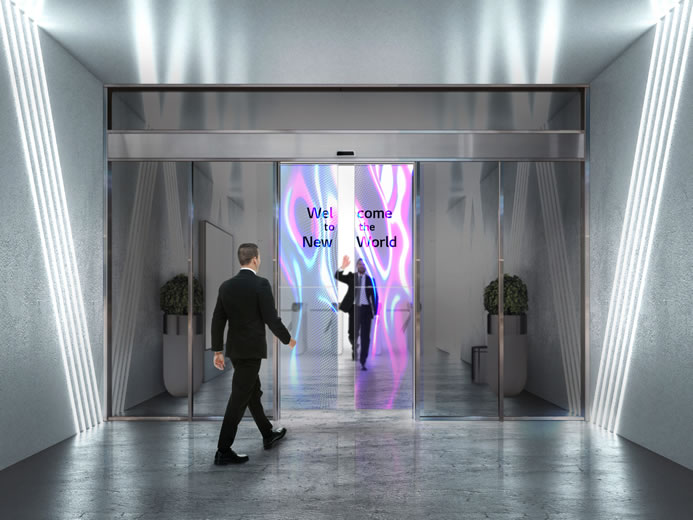 Additionally, its transparency means objects behind the display can be easily seen, enabling the solution to harmonize with its surroundings while providing useful information at the same time. With a robust design featuring tempered glass, the product offers excellent durability and improved safety when combined with ASSA ABLOY Entrance Systems' automatic sliding doors.
---
---
---