LG Display to showcase world's largest 98-inch Ultra HD LCD for interactive whiteboards at SID 2014
LG Display will unveil for the first time the world's largest 98-inch Ultra HD LCD for interactive whiteboards at the Society for Information Display's (SID) Display Week 2014 from June 3 to June 5 at the San Diego Convention Center 2014. Providing an image eight times sharper than HD projector-type interactive whiteboards, the company's Ultra HD LCD panel for interactive whiteboards enables users to see the contents on the screen in daylight without adjusting lighting. In addition, its large size enables the screen to be seen vividly without any image distortion from anywhere in a classroom.


On exhibit will be 55-inch, 65-inch and 77-inch Ultra HD curved OLED TV panels which provide superior picture quality. On view will be 65-inch and 105-inch Ultra HD curved LCD TV panels based on IPS technology that achieve wide viewing angles without color distortion when viewed from the side. LG Display will also present innovative future commercial displays, including a 47-inch transparent display, a video art wall, and a 47-inch outdoor display. The 47-inch transparent display boasts three times more transparency than existing products with a 17 percent penetration ratio, while the video art wall consists of four 55-inch panels with the world's thinnest bezel at 3.5mm.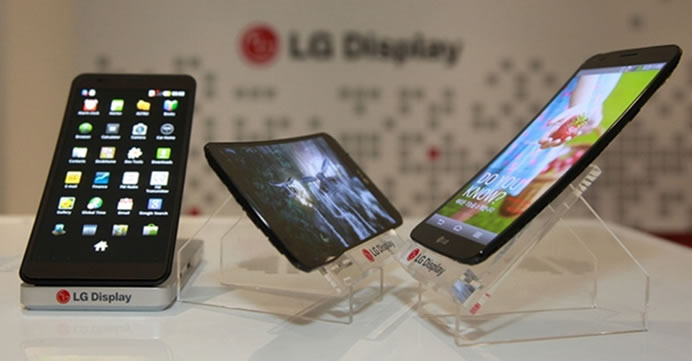 Also being showcased at SID will be a Quad HD panel for mobile devices. With 2,560×1,440 pixels, four times higher than HD with 1,280×720 pixels, and with an impressive pixel density of 491ppi, LG Display's Quad HD panel offers significantly sharper images to achieve improved picture quality. In addition, a 34-inch WQHD monitor and a 13.3-inch Quad HD display for notebook PCs will be on show, highlighting the company's unmatched high-definition technology.
---
---
---