LG unveils ARTCOOL Stylist Inverter V Air Conditioner with LED lighting
LG today unveiled its latest flagship Residential Air Conditioning (RAC) solution, ARTCOOL Stylist Inverter V, a winner of a 2014 iF Design Award. LG ARTCOOL Stylist is a unique square wall unit featuring subtle LED lighting. LG's innovative RAC unit emits a soft stream of air in three different directions at the same time. This 3-way Soft Airflow feature distributes air to the sides as well as the floor, providing a pleasant effect that's soothing and feels more natural than most air conditioners that blow a direct stream of air. LG's advanced inverter technology allows the ARTCOOL Stylist to operate at an incredibly quiet 19dB while consuming less energy than a conventional, non-inverter air conditioner.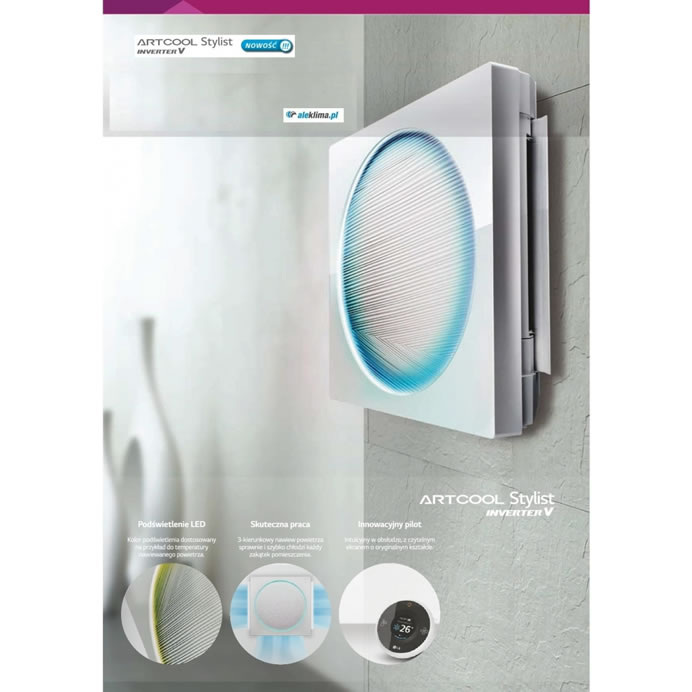 The ARTCOOL Stylist comes with an equally attractive remote control that features a 3.4-inch touch screen display in a sleek, rounded design. The advanced controller makes it quick and easy to adjust the settings, including the color and brightness of the LED lighting. The display on the remote also shows useful information such as operating mode, temperature and time. LG's ARTCOOL Stylist will be shipping this month to popular retailers across CIS countries, Europe and Africa. Measuring only 121mm deep, LG ARTCOOL Stylist is 25mm slimmer than its predecessor and hangs unobtrusively on any wall. The boldly reimagined unit features a ring of LED lighting that changes colors to indicate cooling or heating status and can also be adjusted to suit any mood or ambience.

---
---
---