Mitsubishi 1g pure gold card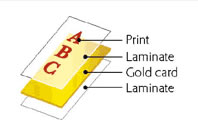 The new Mitsubishi 1g pure gold card is processed from 99.99% pure gold sheet with 14-micrometer thickness using precise rolling technology. With the customized business card design the gold card would be an ideal gift for someone's retirement to remember all the hard work put by him, aprpreciation for the hard work or for promotion etc. The gold card will last for ever as it is laminated on both sides to protect from dust, scratch etc.

The Mitsubishi 1g pure gold card measures 48x80mm and is available for 10,000 Yen ($83). The card comes packed in a special, attractive Paulownia box.
---
---
---