MSI announces Cubi 5 12M business and productivity Mini PC
MSI today announced the Cubi 5 12M Business & Productivity PC. Featuring a miniature chassis, powerful processor options, exclusive software, and Thunderbolt 4, the MSI Cubi 5 12M is designed with efficiency and productivity in mind. The Cubi 5 12M is a mini PC less than 0.7 Liters in size with limitless potential for businesses. It provides a space-saving design that can tidy up desks.
Equipping up to a 12th Gen Intel Core i7 processor with 10 cores and Iris Xe Graphics enables users to edit graphics and work with multiple programs smoothly and faster than previous generations. In addition, the robust selection of IO ports includes one HDMI-out, one DP-out, and one Thunderbolt 4, which supports up to 40Gb transfer speed and display output up to 8K resolution; Cubi 5 can support three displays at the same time, so users can view different programs in great detail simultaneously.
One LAN port for the Internet and the other one for the Intranet, the dual LAN design improve the security of confidential business documents. This is further fortified with TPM 2.0 encryption technology along with the help of the MSI Cloud Center. MSI Cloud Center allows users to transfer data between the Cubi 5 and mobile phone when in the same domain, ensuring photos and data are transferred safely.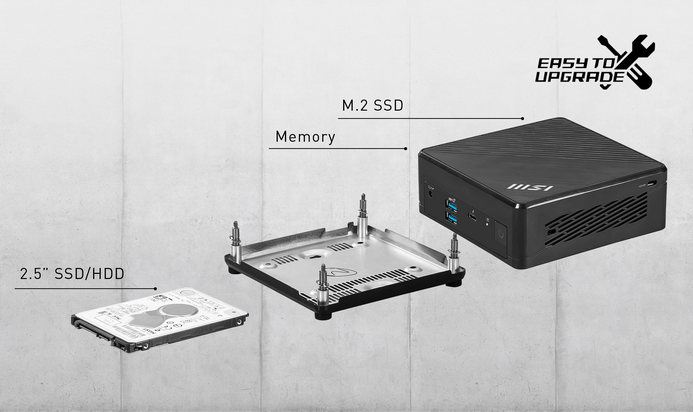 MSI Cubi 5 provides a safer environment for your business, so user will not have to worry about information security problems. With all the powerful hardware supporting your work, the MSI Center software can help you configure your CPU and LAN resources to set up priorities and make good use of all the resources based on your needs.
---
---
---