Nikon unveils D3S high-speed pro DSLR with HD movie capability

Nikon today announced the introduction of its newest FX-format digital SLR flagship for fast response and high light sensitivity: the Nikon D3S. Standing on the shoulders of the world-renowned D3, the D3S takes the potential of Nikon's proprietary FX format to incredible new levels designed to meet or exceed a professional's high standards. The Nikon D3S delivers ISO 200 to ISO 12800 as standard, with the excellent noise control and wide dynamic range that the D3 is famous for. This provides photographers of any discipline with additional latitude to achieve quality images in most lighting situations.


More images after the jump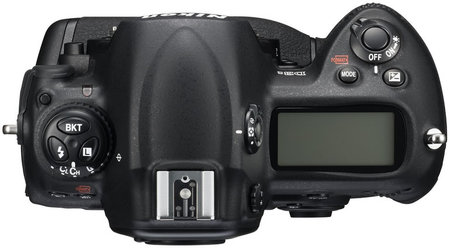 In a first for an FX-format flagship, the D3S incorporates the HD-quality D-Movie function, letting users take full advantage of the wide dynamic range and high ISO performance, including the breakthrough High-Sensitivity Movie mode. The D3S's D-Movie also offers compatibility with an external stereo recording microphone, as well as convenient in-camera editing functions such as the ability to select the starting or ending points in order to trim D-Movie footage, as well as the option to save selected movie frames as JPEGs.


The D3S's large, high-resolution LCD monitor delivers bright, crisp image playback with up to 27x enlargement for immediate and precise image confirmation. Each LCD is covered with scratch resistant tempered glass and individuallycalibrated and fine-tuned at the factory to deliver consistent performance.


The Nikon D3S with twin CF card slots lets you designate each card slot for certain tasks: record two full CF cards of data sequentially for a large amount of storage, record the same data onto two cards (backup), record RAW and JPEG simultaneously onto separate cards, and transfer data from one card to another. You can also designate the slot for data-heavy D-Movie recording.


For the reliability professional's demand, the shutter of the Nikon D3S has been tested for up to 300,000 cycles in fully assembled cameras under rigorous conditions.


A comprehensive series of O-rings and other specialized seals, combined with additional Nikon engineering, protect the D3S against invasive moisture, dust and even electromagnetic interference.


The D3S's image sensor has been completely redesigned from the one utilized in the D3. This new sensor's inner structure has been further optimized, with the pixel count and large pixel pitch maintained for even greater latitude in high ISO performance. As a result, the D3S captures and renders light in ways that no other ordinary digital SLR cameras have yet achieved.


The D3S's large prism gives you the FX-format visual advantage when you shoot. The viewfinder image is not only larger and brighter, but the focusing screen is also carefully designed to help you to more intuitively sense sharp focus, be it manual or autofocus.


Nikon's exclusive 3D colour matrix metering II is highly praised for its outstanding performance and faithful exposure results — even in complex, unforgiving lighting conditions. The D3S takes accurate exposure further, using highlight analysis from the Scene Recognition System and then carefully selecting from a database containing information from over 30,000 actual shooting situations.

---
---
---