Olympus μ1200 digital camera with Smile Shot Function

Olympus has announced its new model to the Olympus µ [mju:] – μ1200. Olympus μ1200 adopts the same weatherproof construction as recently launched Olympus μ780 and μ830 models. The new μ1200 includes a very cool and interesting feature 'Smile shot' mode that is able to detect your smiles automatically. The "face & back "function allows to capture the face and back ground of the subject clearly. The Face detection function and SAT (shadow adjustment technology) allows you to adjust the face as well as the back ground to a great extent. When using the 'smile shot' function the Olympus μ1200 records the image in 3 MP resolutions.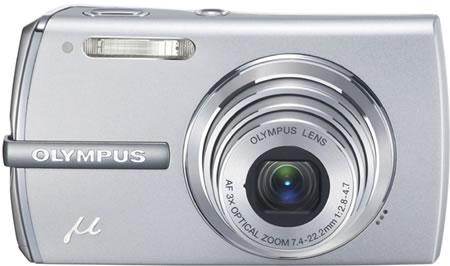 The ultra-slim and stylish 10 mega pixels Olympus μ1200digital camera features a 3x optical zoom lens, 2.7" hyper crystal LCD and 47 MB built in memory. The camera uses xD picture card for recording and is available in silver and black finish. The Olympus μ1200 measures 98.1×23×56.2mm, weigh approximately 125g and will be available from October 12th for approximately 50,000 Yen ($435).
---
---
---