Panasonic announces world's most rugged 5-inch tablet- Toughpad FZ-E1and Toughpad FZ-X1
Panasonic today announced the U.S. launch of its fully-rugged, 5-inch handheld tablets. The Toughpad FZ-E1, powered by Windows Embedded 8.1 Handheld, and the Toughpad FZ-X1, running the Android 4.2.2 operating system, are enterprise-class handheld tablets — with voice and data connectivity — designed for mission-critical mobile workers. With resistance to drops of up to 10 feet to concrete, the Toughpad FZ-E1 and Toughpad FZ-X1 go beyond MIL-STD-810G specifications to assure in-field reliability. Both devices are fully sealed against dust and are submersible in up to 5 feet of water for up to 30 minutes, meeting IP65 and IP68 certification requirements. The devices carry an operating temperature range of -4° F to 140°F thanks to a built-in heater, and are also tested for resistance to impact, shock, vibration, altitude and extreme humidity.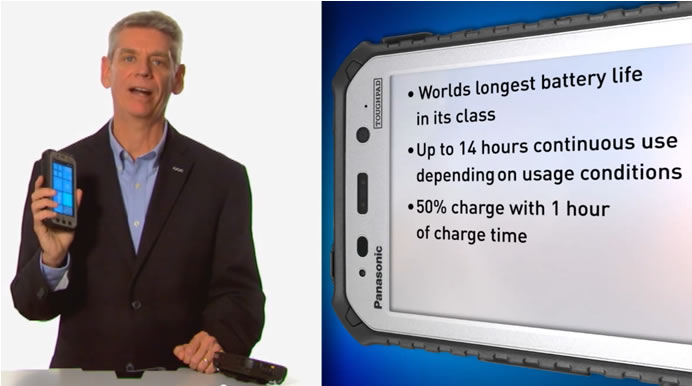 With 14-hour hot-swappable batteries, FIPS 140-2 Level 1 security, and sunlight-readable HD touchscreens that work even with gloves, the Toughpad FZ-E1 and Toughpad FZ-X1 are purpose-built to improve efficiency and productivity for mobile professionals such as first responders, military servicemembers and those in transportation and logistics, utilities, manufacturing, retail and field services. The Toughpad FZ-X1 with WiFi or mobile broadband data connectivity will be the first to hit the market in August 2014 at a list price of $1,799 (WiFi-only) or $1,849 (mobile broadband data). The Toughpad FZ-E1 with WiFi-only connectivity will also be available in August 2014 at a list price of $1,899, followed by the telephony and mobile broadband-enabled version with a target date of October 2014 at a list price of $1,999.

---
---
---