Panasonic Launches Walk Training Robot for Elderly Japanese Citizens
Panasonic today announced mass production of its Walk Training Robot in Japan. Walk Training Robot is designed to provide safe and efficient walk training for elderly citizens with apprehensions about walking because of physical depression and afraid of falling. Panasonic will begin offering a service using this robot to care facilities, hospitals, and other institutions this month.
Using AI to analyze gait, the robot employs a visualization technology that shows changes in physical function in an easy-to-understand manner to alleviate concerns of elderly people about facing training and not being able to see the effects. Panasonic Walk Training Robot is designed to encourage users actively walk, making training a fun experience to keep them motivated.
The robot features a slim exterior design and has a thick handle that is easy to grip. Users can place their elbows on the handle to safely support their bodyweight. Via voice guidance users can easily control the robot using the touch-panel screen. Exercise loads can be set depending on the user for safe, efficient training. This service will facilitate safe and efficient training for users—simply by pushing the robot when walking—helping to maintain and improve their walking ability.
AI automatically analyzes progress on a daily basis and proposes the optimal exercise load for each user. The handle height can be adjusted automatically based on the user's height and grip, enabling training that places little burden on the body. Distance, time, speed, and left-right balance is displayed on-screen in real-time during training and automatically saved to the cloud. Training results can be easily printed as a report or saved as a PDF file.
With a mass-production technology for this robot established, Panasonic will now offer a service using the robot for care facilities, hospitals, and other institutions to support consistent walking training for the elderly. In the future, Panasonic will further expand this service that supports the desire of elderly people to walk on their own, and reinforce its efforts to help them enjoy an active lifestyle.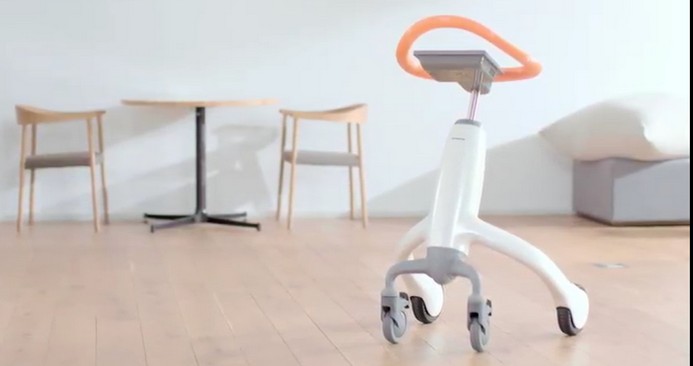 ---
---
---