Pentax K-5 digital SLR camera offers high-quality images and user-friendly operation
Pentax today announced the launch of the Pentax K-5 lens-interchangeable digital SLR camera. Encased in a compact but solid, functional body, Pentax K-5 comes equipped with a host of advanced photographic tools for the easy creation of diversified visual expressions, while demonstrating much higher standards of image quality, data processing speed and operability than previous models. Developed using the highly acclaimed PENTAX K-7 (introduced to the market in June 2009) as its base, the K-5 inherits the exceptional reliability, user-friendly operation, array of advanced features and compact, lightweight body of its predecessor, yet it is more resourceful and flexible in photographic expression.


Coupling a new high-speed, low-noise CMOS image sensor with the high-performance PRIME II imaging engine, Pentax K-5 produces super-high-resolution, rich-gradation digital images with approximately 16.28 effective megapixels, even when shooting in the continuous shooting mode at a maximum speed of approximately seven images per second.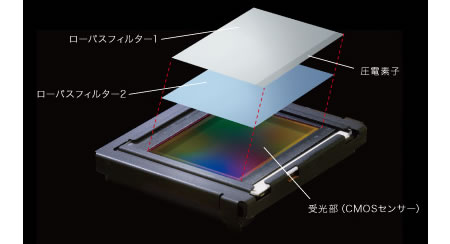 The K-5 incorporates a newly designed CMOS image sensor with a wide image-sensitive area measuring 23.7mm by 15.7mm. It assures high-speed image data readout much faster than that of previous sensors.
Despite its compact dimensions, the K-5 is built to be exceptionally solid and durable, with a body of sturdy yet lightweight magnesium alloy, and a chassis of highly rigid stainless steel.


Thanks to the inclusion of 77 special seals in the body, it also boasts a dustproof, weather-resistant and cold-resistant construction, assuring reliable operation even under harsh environment, and at temperatures as low as -10 ° C.


Pentax K-5 also features a reliable shutter unit that provides a top shutter speed of 1 / 8000 second and the outstanding durability to withstand as many as 100,000 shutter releases.


The K-5 features a pentaprism finder with nearly 100% field of view and at approximately 0.92-times magnification (with a 50mm F1.4 lens at infinity) to provide a better view of the image field and improve the accuracy and speed of focusing and image composition. It also comes with the renowned Natural-Bright-Matte focusing screen to assist the photographer with manual-focus operation.


The K-5 features the PENTAX-developed SR (Shake Reduction) mechanism, which effectively compensates the adverse effect of camera shake by approximately 2.5 to 4 shutter steps, to produce sharp, blur-free images. This innovative mechanism works with almost all PENTAX interchangeable lenses – even those designed for film-format cameras.


Pentax K-5 measures approx. 131mm x 97mm x 73mm and weigh 740g (Including dedicated battery and SD Memory Card), approx. 660g (body only) .Accessories Included USB cable I-USB7, AV cable I-AVC7, Strap O-ST53, ME Viewfinder Cap, Rechargeable Lithium-ion Battery D-LI90, Battery Charger D-BC90, AC plug cord, Software (CD-ROM) S-SW110 < Mounted to the camera> Eyecup FR, Hot shoe cover FK, Body mount cover, sync socket 2P cap.

---
---
---