Russian President Dmitry Medvedev loves LG's Watch Phone besides French wines and Italian suits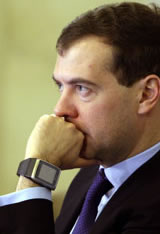 Russian President Dmitry Medvedev has been seen in public wearing the LG-GD910 Watch Phone, the world's first 3G quad-band watch phone made by LG Electronics. Medvedev has been spotted wearing the Watch Phone on several occasions, including a recent meeting on economic advancement at Moscow State University, and a visit to the Russian Academy of Science in Moscow to attend a meeting on climate change on Dec. 14, 2009. The Russian leader was a fan of British rock band Deep Purple in his youth, and likes French wines and Italian suits.

Shaped like a wrist watch, the LG-GD910 Watch Phone features a 1.43-inch touch-screen, half the size of the screen of normal phones. Unlike most cell phones, the screen can be viewed when the LCD is off if there is external light. LG-GD910 Watch Phone is the first touch watch phone in the world to feature 7.2 Mbps 3G HSDPA compatibility, enabling high-speed data transmission and video phone calls using the built-in camera.
---
---
---