Samsung Announces Mass Production of Fifth-generation V-NAND – 256Gb V-NAND with Industry's Fastest Data Transfer Speed

Samsung has begun mass producing its fifth-generation V-NAND memory chips with the fastest data transfers now available. In the industry's first use of the 'Toggle DDR 4.0' interface, the speed for transmitting data between storage and memory over Samsung's new 256-gigabit (Gb) V-NAND has reached 1.4-gigabits per second (Gbps), a 40-percent increase from its 64-layer predecessor. The new V-NAND also has the fastest data write speed to date at 500-microseconds (μs), which represents about a 30-percent improvement over the write speed of the previous generation, while the response time to read-signals has been significantly reduced to 50μs.



Packed inside Samsung's fifth-generation V-NAND are more than 90 layers of '3D charge trap flash (CTF) cells,' the largest amount in the industry, stacked in a pyramid structure with microscopic channel holes vertically drilled throughout. These channel holes, which are only a few hundred-nanometers (nm)-wide, contain more than 85 billion CTF cells that can store three bits of data each. The energy efficiency of Samsung's new V-NAND remains comparable to that of the 64-layer chip, primarily because the operating voltage has been reduced from 1.8 volts to 1.2 volts.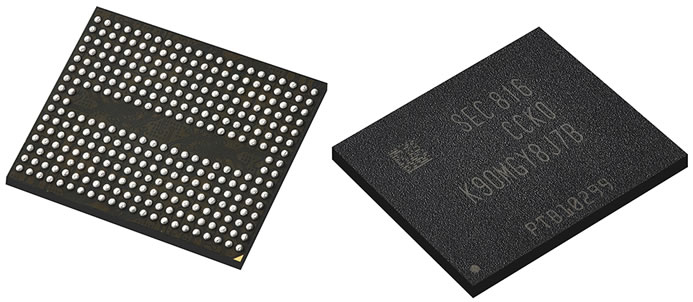 Thanks to enhancements in the V-NAND's atomic layer deposition process, manufacturing productivity has also increased by more than 30 percent. The cutting-edge technique allows the height of each cell layer to be reduced by 20 percent prevents crosstalk between cells and increases the efficiency of the chip's data processing. Samsung will be quickly ramping up production of its fifth-generation V-NAND to meet a wide range of market needs.
---
---
---