Samsung NX1- fast compact system camera for professional photographers announced
Samsung announced today the launch of the NX1, an exceptionally fast compact system camera designed for professional photographers, featuring best in class 15FPS continuous AF shooting, a unique Auto Focus (AF) System III with 205 Phase Detection AF points and 28MP APS-C BSI CMOS Sensor and unrivalled usability. The Samsung NX1 boasts an all new, best in class, 28MP BSI CMOS sensor, which supports Samsung's fastest autofocus system to date, the NX AF System III. Photographers can quickly focus on subjects, making this camera ideal for photographing a football player as they run down the field or baseball action at home plate. Developed utilizing Samsung's advanced semiconductor technology; the back side illuminated sensor is capable of gathering more light than conventional CMOS sensors.


The new NX AF System III features 205 Phase Detect AF points covering 90 percent of the frame, allowing photographers to quickly focus on their targets. This quick focusing ability allows the camera to achieve 15FPS of continuous shooting while continuously tracking focus. The system also employs a patterned AF Assist Beam that reaches up to 15m and will help to more accurately capture clear photos in low light. Wide Phase Detection gives the NX1 the ability to instinctively track subjects almost anywhere in the frame, regardless of their location. Photographers can capture even the briefest of moments.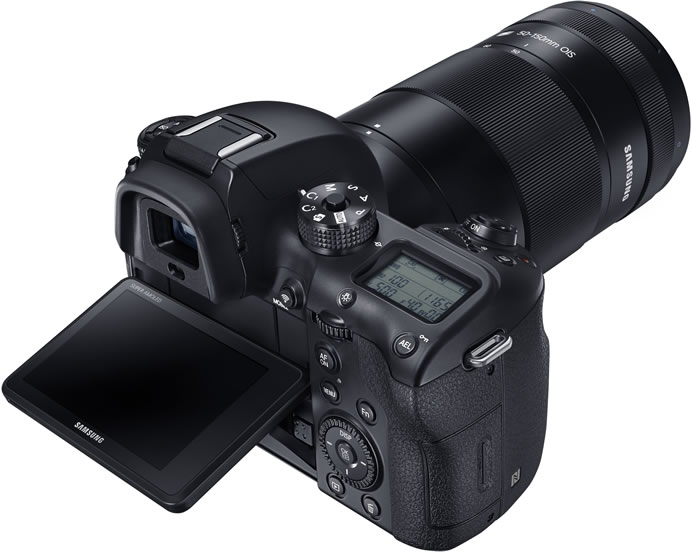 The NX1 incorporates a new DRIMe V Image Processer that delivers superior color reproduction and works with the camera's built-in Adaptive Noise Reduction technology to help retain details and remove noise from photos captured at high ISO's. The new Samsung Auto Shot highlights the innovation available in the NX1. Using the DRIMe V Image Processor and an advanced algorithm, the NX1 will track a baseball as it travels to a player, allowing photographers take crisp images of the moment a ball connects with a bat. While these shots can often be difficult to take, the NX1 removes any concern by accurately predicting the right time to trigger the shutter and capture a full-resolution image.

As the only compact system camera on the market with a top deck LCD panel, photographers can easily confirm camera settings, including aperture, shutter speed, ISO, white balance, AF settings, drive and battery life with one glance. Videographers and filmmakers can easily shoot cinema-quality video straight from the NX1. Utilizing the next generation HEVC codec, the NX1 is capable of recording smooth and immersive UHD/4K (DCI Standard) video. Users can easily save files directly to the memory card in the camera, eliminating the need to carry hefty external 4K recorders. This is made possible by a built-in HEVC Codec (H.265).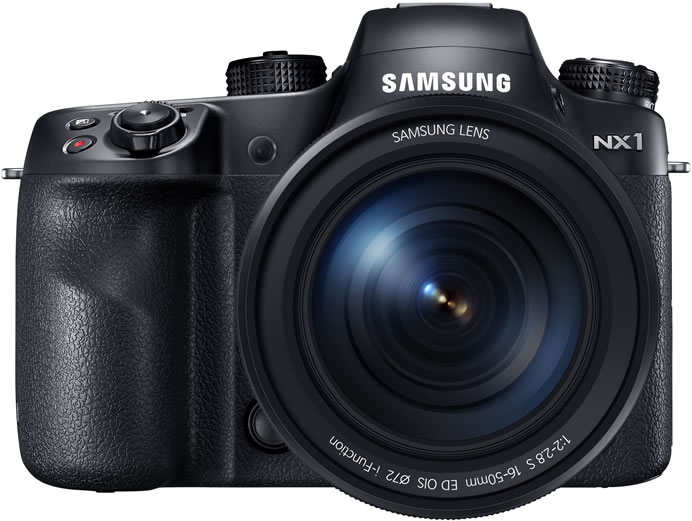 The new Samsung 50-150mm F2.8 S telephoto lens features a dust and water resistant build making it both durable and reliable. All of the lens controls, focus, zoom and OIS, are located in a single function zone on the side of the lens, making it easy to control. Building on the successes of Samsung's market leading SMART Camera technology, the NX1's NFC and Wi-Fi capabilities offer the next-generation of connectivity, making it is easier than ever to take advantage of a host of intuitive sharing features. The 'Tag & Go' function lets users tap and share memories instantly and easily, pairing the NX1 with NFC enabled smartphones and tablets.

The Samsung NX1 incorporates Bluetooth 3.0 for an always-connected experience with a mobile device. After authenticating the connection via Bluetooth, the NX1 is capable of collecting important time, date and location data and automatically imports it into the image's metadata. Once authenticated, the connection will automatically switch to a Wi-Fi connection for data transfer. The Photo Beam feature allows the transfer of images or videos to a smartphone or tablet by simply touching the two devices together with no other configuration needed. MobileLink lets users select multiple images to send to four distinct smart devices at one time, so everyone can treasure photos without the need to take repetitive shots on each individual device. AutoShare sends every photo you take instantly to your smartphone or tablet.

---
---
---