Sharp announces new LB Series of AQUOS Quattron 3D LCD TVs for Japanese market
Sharp will introduce into the Japanese market two models in the new LB Series of AQUOS Quattron 3D LCD TVs. The LCD panels in the LB Series use four-primary-color technology developed by Sharp based on its proprietary UV2A technology. This technology adds Y (yellow) to the three RGB (red, green, blue) primary colors and significantly improves light utilization efficiency to provide brightness approximately 1.8 times greater than conventional three-primary-color LCD panels, enabling users to enjoy vivid, impressive 2D and 3D images. The ARSS (Around Speaker System- Audio technology in which speakers are arranged around the screen) eight-speaker system integrates video and audio, plus Duo Bass low-vibration woofer.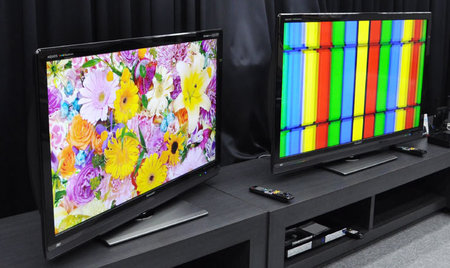 The built-in 3D-compatible Blu-ray Disc recorder enables viewers to enjoy Blu-ray 3D video using a single unit. Plus, these recorders are compatible with BDXL, the new format for multi-layer recordable Blu-ray Discs, and can record up to approximately 87 hours of high-definition TV programming in extended recording mode. Sharp LB Series of AQUOS Quattron 3D LCD TVs also offer functions for enhanced connectivity with peripheral devices such as digital cameras and mobile phones, and support wireless LAN adaptors.Standard accessories include – Table stand (ready-to-assemble), wireless remote control, 3D glasses, AA dry cell battery (alkali), power cord, B-CAS card, tipover-prevention hardware (pre-assembled), operation manual, easy user's guide and warranty card.

---
---
---