Sony announces MDR-X05 headphones in collaboration with Simon Cowell and Sony Music

Sony announced today its newest addition to the X Headphone line, the on-ear MDR-X05. These new headphones deliver music lovers a premium Sony audio experience in a more compact and lightweight design. Together in collaboration with Simon Cowell and Sony Music Entertainment, the new X05 delivers killer sound reproduction in an aggressive, stylish design. Sony set out to achieve unmatched high performance sound in a smaller and lightweight design with the new X Headphones. Engineered with an efficient acoustic design, the new X Headphones feature precision 40mm drivers for a crisp, full-range audio experience that optimally reproduces today's bass-heavy music.



With their pressure-relieving memory foam ear pads, the X Headphones conform to each user's unique ear shape, providing a highly effective acoustic seal and preventing sound leakage. The X Headphones look as great as they perform with their color-accented headbands, swivel mechanisms and end caps.Their dual folding style allows the user to swivel the noise isolating ear pads for listening flexibility, as well as conveniently fold the headphones into an included sleek carrying case for hassle-free portability.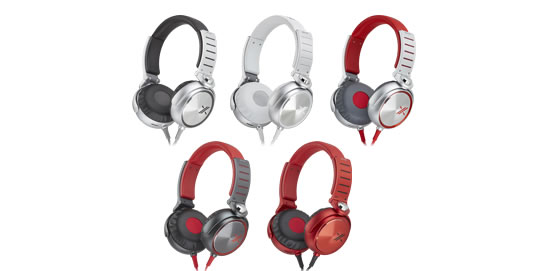 The X Headphones are designed to provide maximum performance when used with all of today's portable music devices. For iPod, iPhone and iPad users, the X Headphones include a convenient Apple 3-button control with a microphone, track, and volume control functionality, allowing users to access their music and answer phone calls. The remote also provides basic control of most Android devices as well. The new Sony X Headphones are available in five new color variations (red on silver, black on silver, white on silver, black on red, and red on black.
---
---
---