Sony Launches Compact and Light Weight Wireless Earphone WF-H800 with High Quality Sound Technology
Sony Japan today announced wireless earphone WF-H800 .The H800 is equipped with the high-quality sound technology introduced in Sony's popular model WF-1000XM3. The new Sony model has a smaller housing and charging case, simpler functions, and lower prices and is aimed at users who want to be particular about sound quality.
The driver is a 6mm diameter dynamic type. As with the WF-1000XM3, the "DSEE HX" that converts non-high-resolution sounds to high-resolution "class" high-quality sound and plays them is installed in the new ear phones. The upscaling technology for high dynamic range (16bit → 24bit) and high sampling rate (44.1kHz → 96kHz) of CD / compressed sound source enables music distribution services and YouTube videos to be played with high sound quality.
The Bluetooth compatible codecs are SBC and AAC. The Bluetooth chip in WF-H800 is the same as in 1000XM3, which enables simultaneous left and right transmission of audio signals regardless of Android or iOS devices. The major difference The major difference from the 1000XM3 is that it does not have an active noise canceling function. The wireless ear phones are available in a range of colours.
Touch sensor operation is missing in this unit. The Wireless earphones are compatible with Google Assistant and Amazon Alexa. Playback time is up to 8 hours with earphones only and 16 hours of playback when used in case charging. A 10-minute quick charge gives 70 minutes of playback. WF-H800 has a wearing detection function, and automatically stops playback when removed from the ear.
While taking over the high sound quality technology of the high end Sony WF-1000XM3, the new model has a smaller housing and charging case, simpler functions. Sony WF-H800 earphones  weighs about  7.6g for. The charging case is the smallest and lightest for Sony's completely wireless earphones as on today. The WF-H800 case weighs 48g.  While Sony WF-1000XM3 is available for 25,880 yen ($235), the new model WF-H800 is available for 22,000 yen ($200) in Japan.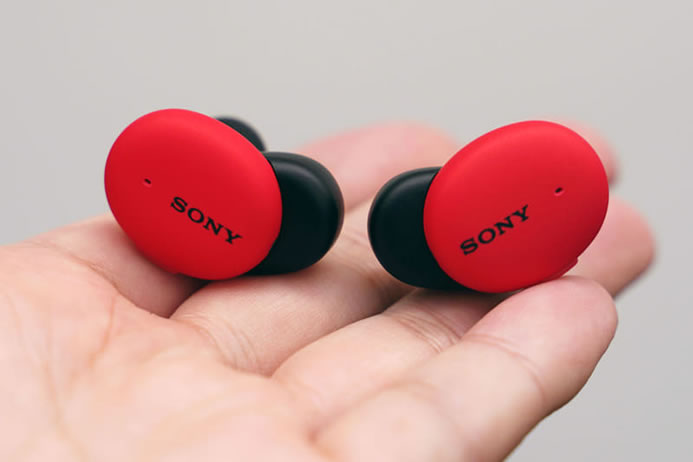 ---
---
---