Sony launches three new portable chargers with a choice of different battery capacities
Sony today updated its range of portable USB chargers with three new models- CP-V5, CP-V10 and CP-V3 , providing a choice of different battery capacities, ensuring that you always have enough charging power for your individual needs. With 5000mAh, the CP-V5 charger is the ideal travel companion, delivering two full charges to your smartphones. Its bigger brother, the portable USB charger CP-V10 features a 10000mAh battery allowing you to recharge electronic portable devices several times without having to recharge your portable charger. The small CP-V3 completes the portable charger family, supplying 3000mAh, enough energy to give your smartphone a second charge.


All three Sony portable USB chargers models come pre-charged so that they can be used right out of the box. The batteries feature a 1.5A output for faster charging and incorporate Sony's Hybrid-Gel Technology which secures minimal capacity loss of less than 10% even after 1000 charges– this way you get the most out of your charger. The Sony portable USB charger CP-V5 will be available in black, white, and blue and green and features a special anti-scratch coating to maintain the charger's vibrant, glossy look even after heavy daily use.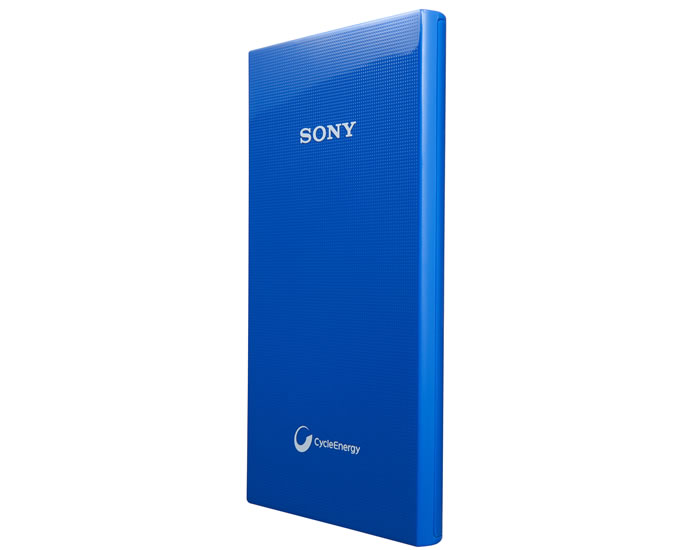 The CP-V10 from Sony will cover even your most battery-intensive activities. Measuring just 72.0mm x 127.0mm x 17.5mm, it weighs 245g and packs a 10000mAh battery. Its capacity allows for up to four smartphone charges but is also suitable for heavy use of other portable devices such as tablets and digital cameras like Sony's RX100M3. Sony portable USB charger CP-V10 comes with an added On/Off switch, which prevents the battery from accidental discharge as well as four LED lights indicating the battery level . As the smallest charger in the range, the updated CP-V3 features an expanded Lithium ion battery of 3000mAh.The CP-V3 will be available in white, blue and purple.
---
---
---