Super AMOLED display of Samsung Galaxy Tab S explained
There is no doubt that Galaxy Tab S is Samsung's best tablet yet. It is not only Samsung's thinnest and lightest tablet to date, but it also houses the powerful Exynos 5 Octa processor. However, the most eye-catching thing about the Galaxy Tab S is the most advanced Super AMOLED display on the market. Here is why the Super AMOLED makes Galaxy Tab S turns up the color better compare to conventional tablets.


AMOLED screens and LCDs produce colors differently. LCDs can't emit light on their own. They need color filters, a backlight unit, a light diffuser for uniformity and other layers to create images. All these layers block out some of the light that would otherwise reach the eye. Plus, the backlight has to remain on constantly to produce the image, so it draws more power. It also tends to filter colors. On the other hand, AMOLED is an emissive technology. So there's nothing to block the light output of the display. AMOLED also displays direct, unimpeded colors and detail. Therefore, every single pixel of the AMOLED is vivid and real. The emissive technology's simpler structure also allows the Galaxy Tab S to be slimmer and lighter.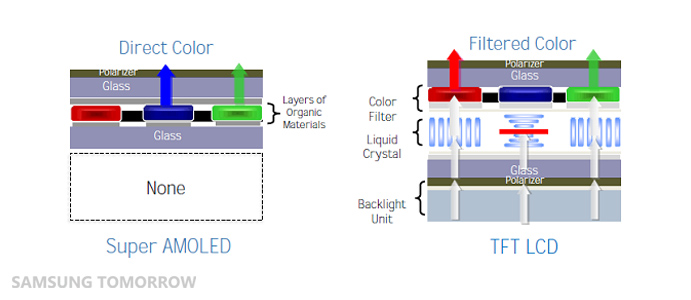 LCD covers only about 70% of the AdobeRGB color spectrum, leaving a lot of potential unfulfilled. By contrast, Samsung AMOLED display covers more than 90% of AdobeRGB. That means — with AMOLED – Galaxy Tab S reveals about 20% more of the color spectrum our eyes expect to see. This wider color expression extends into much richer cyans and greens, in particular. And the whole picture shows vibrant, richer colors that get closer to real-life colors than ever before. It portrays the true colors that content creators intended.

AMOLEDs express the deepest black achievable on a display because it simply can turn off the pixels. When compared to conventional LCD tablets, the contrast difference is almost 100 times better, achieving the true black. With the deeper blacks, you get so much more detail, even in the darkest areas in an image. The Super AMOLED screens have a 180-degree viewing angle, which means you can pretty much view it from any angle or view it with more than one people without any discomfort.

---
---
---