This Digital Camera Works even after lying under ice and snow for two years!
After two years in a Nova Scotia river, a digital camera retrieved from the icy waters last week yielded up picture perfect images. Both the camera and pictures were returned to their owner Bill Collins this past weekend nearly two years to the day after they were lost in a back-country canoe accident. Collins and his wife Lori were canoeing in Nova Scotia's Kejimkujik National Park in 2005 when they capsized, spilling themselves and their belongings into the frigid Autumn waters of Little River. Now, two years later, Collins looked in amazement at some 300 pictures retrieved from the camera.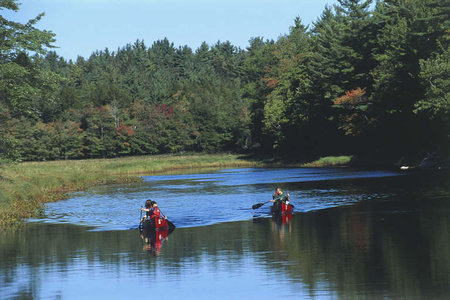 Collins returned to the park in August to hike and mentioned the incident to a park maintenance worker, Charlie Hearn. After learning of the location from Collins, Hearn took it upon himself to check for the camera. "He went to exactly the spot and there it was," Collins said. Kejimkujik, the only inland national park of Canada in the Maritimes, features abundant lakes and rivers ideal for canoeing. The lush woodlands and gently rolling landscapes are home to a variety of wildlife. The park is well known for its excellent canoe routes and camping, it also has a network of excellent backpacking and hiking trails.
---
---
---