Toyota Launches redesigned Crown Royal and Crown Athlete sedans in Japan

Toyota today announced the launch in Japan of the redesigned Crown Royal and Crown Athlete sedans. Both will be sold through Toyota dealers across Japan. The original Crown debuted in 1955 and established a tradition of trust and peace of mind, and has since evolved into a sedan that leads the premium car market in Japan. Now, the 14th-generation of the Crown revisits its roots while also living up to today's demands and expectations by providing an exquisite ride and superbly quiet performance. The new Crown series has been designed around the core concept of new innovation, and stands at the front of Toyota's ongoing efforts to make ever-better cars2 that exceed expectations.



The new Crown series features distinct and dynamic styling that indicates the extent of the redesign. All major components have been updated, including a new 2.5-liter hybrid system that combines high output with high fuel economy, a matured suspension, and new cutting-edge technology and devices such as the Toyota Multi-Operation Touch, which consolidates various vehicle functions into one, convenient, easy-to-operate touch panel.


Crown Royal:
The hood and sides of the body thrust forward to create a strong front view with a commanding presence. The thick, angled upper grille blends with the wide and open lower grille to create the new, dignified face of the Crown Royal. The lowered body combines with the horizontally accented shoulder lines to create a low front-center-of-gravity while presenting a sense of forward momentum through the side profile.


The cabin is tapered toward the rear with the tires set outward through the use of arch hemming3 to create an impressive rear view that conveys a sense of stability and sturdiness. The shortened wheel arch flanges and the hems are curved inward to present smooth flare surfaces.
Crown Athlete:


The low-to-the-ground center body and fender strongly emphasize the tires to form a lively front view. The shape of the grille evokes the image of a crown while expressing the functionality of a sports model to produce a striking look. With integrated side rocker molding consistent with the body, the side profile emphasizes the low center of gravity and excellent driving performance.


The rear view features combination taillights with rounded accents that convey an aggressive feel. The rear spoiler flows smoothly into the side rocker moldings to emphasize the low center of gravity, and the adoption of a lower garnish with aerodynamic effects conveys the quality of the driving performance.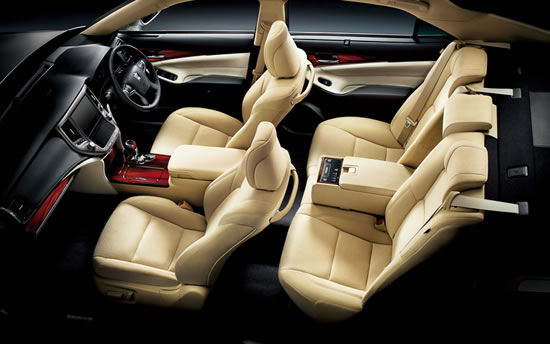 The new Crown series boasts a dignified yet expressive side profile built around a lowered body complemented by free-flowing lines and dynamic styling. The impressive front mask—based on the shape of a crown—emphasizes the individuality of the Crown series' unyielding presence and dignity.

---
---
---