Ultra-compact table top washing machine from Japan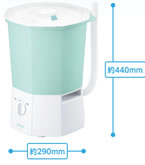 Kingjim Japan today unveiled an ultra-compact tabletop washing machine Petit Laundry Swoosh, to wash small clothes or a small tower. The washing machine with 250g capacity will be available in Japan from February 15th for approximately 14,700 yen ($ 160). The machine uses both cold and hot water for washing. Add the detergent, water, cloth from the top and close the lid from the top. Connect the supplied drainage hose (380mm) to an outlet. Set the timer-15 minutes for wash and 3 minutes to rinsing for a sweet washing experience. Standard water consumption is 5L.



Petit Laundry Swoosh tabletop washing machine measures 290 × 440mm (height × diameter) and weighs 3.6kg. It comes handy for emergency small laundry demand. . In addition to regular detergent, the washer supports softener or bleach.
---
---
---